Blog

Welcome to the Christian Fiction Scavenger Hunt! If you've just discovered the hunt, be sure to start at Stop #1, and collect the clues through all the stops, in order, so you can enter to win one of our top 5 grand prizes!
The hunt BEGINS on 10/21 at noon MST with Stop #1 at LisaTawnBergren.com.
Hunt through our loop using Chrome or Firefox as your browser (not Explorer).
There is NO RUSH to complete the hunt—you have all weekend (until Sunday, 10/24 at midnight MST)! So take your time, reading the unique posts along the way; our hope is that you discover new authors/new books and learn new things about them.
Submit your entry for the grand prizes by collecting the CLUE on each author's scavenger hunt post and submitting your answer in the Rafflecopter form at the final stop, back on Lisa's site. Many authors are offering additional prizes along the way!
***
I'm Carla Laureano, and I'm the author of contemporary romance, women's fiction, and fantasy fiction! As you might guess, I have a lot of different interests, among them being travel, the outdoors, and architecture—which was why I had a great time writing my newest romantic contemporary novel, Provenance! In it, I got to explore arts and crafts architecture and interior design, as well as depict a fictional version of one of my favorite small Colorado towns.
It also gave me the chance to do something I've never before attempted in a contemporary novel: incorporated not one, but two mysteries into the storyline, one historical and one more recent.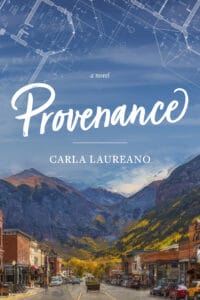 Los Angeles interior designer Kendall Green has pushed her memories of her childhood into the past—abandoned at the age of five, she never truly knew her mother or why she was left behind. She just knows that no good came from dwelling on her painful history. But when she receives a letter saying she's inherited property in the mountains of Colorado from a grandmother she never knew, she figures no good can come of digging into her past. The best and easiest option is to sell the property and fly home as quickly as possible.
But when she arrives in the small town of Jasper Lake, she realizes that plan might not be quite so easy. The town is filled with people who knew her family—and this might be her only chance to find out the truth of her past. Plus, the property she inherited isn't just a simple house—it's five historic houses, all built in a distinctive style by an obscure architect… and they're in danger of being demolished to build a summer resort.
It was fun to write the slow uncovering of the truth about both Kendall's past and the mysterious architect with a link to her family, but it was also an opportunity to explore how both the recent and distant past shapes us into the people we are today. As Kendall is welcomed into the small town that should have been her home, she realizes that no matter how much she has pretended the past doesn't matter, it has permeated every part of her life: her choices, her relationships, her faith. The truth is slowly revealed, bringing with it awareness of her own hurts and the need for forgiveness and reconciliation in her life.
Of course, our own pasts don't have to involve such dramatic or mysterious events to affect us. But as Kendall learns, it's only by truly coming to terms with everything that happened before that we can truly move forward into a fulfilling future.
***
Learn more about the book here, or find out more details about me by following me on Facebook, Instagram, or BookBub!
***
Here's the Stop #16 Basics:
***
But wait! Before you go, I'm giving away three books to three lucky participants*—your choice of any my romantic fiction! All you have to do is sign up to get my newsletter. You can get additional entries by following me on Facebook, Instagram, or BookBub.
*Winners with US shipping addresses will receive a paperback; international winners will receive an ebook.

Tags: Christian Fiction Scavenger Hunt, contemporary romance, giveaway