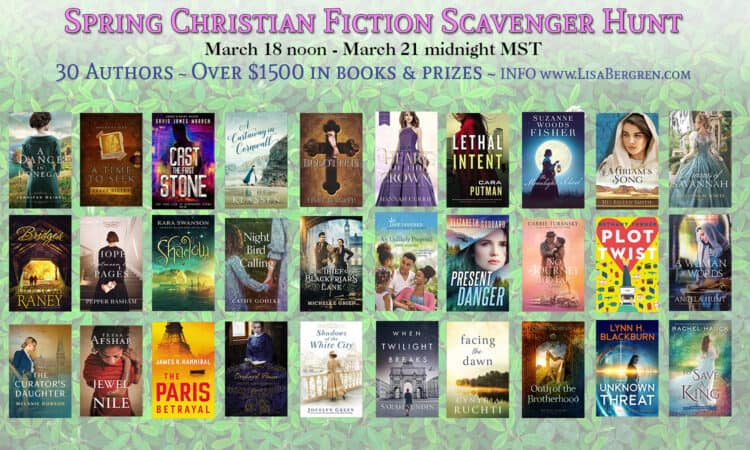 Welcome to the Christian Fiction Scavenger Hunt! If you've just discovered the hunt, be sure to start at Stop #1, and collect the clues through all the stops, in order, so you can enter to win one of our top 5 grand prizes!
• The hunt BEGINS on 3/18 at noon MST with Stop #1 at LisaTawnBergren.com
• Hunt through our loop using Chrome or Firefox as your browser (not Explorer).
• There is NO RUSH to complete the hunt—you have all weekend (until Sunday, 3/21 at midnight MST)! So take your time, reading the unique posts along the way; our hope is that you discover new authors/new books and learn new things about them.
• Submit your entry for the grand prizes by collecting the CLUE on each author's scavenger hunt post and submitting your answer in the Rafflecopter form at the final stop, back on Lisa's site. Many authors are offering additional prizes along the way!
I'm Carla Laureano, award-winning author of contemporary romance, women's fiction, and historical fantasy! It may not seem like those genres have a lot in common, but my favorite thing is showing how people react to and overcome adversity, whether it's the loss of a job in the real world or finding out they have magic in a fictional one. You can find out more about me and my books here on this site, or you can visit me on Facebook, Instagram, or BookBub for additional information. My newest release is the Celtic fantasy series starter, Oath of the Brotherhood. Here's what it's about: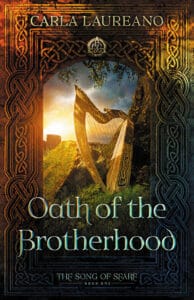 In an island kingdom where the Old Ways hold fast and a man's worth lies entirely in his skill with the sword, Conor Mac Nir is a musician and a follower of a forbidden faith—problematic for any man, but disastrous for the son of the king.
When Conor is sent away to a neighboring kingdom to secure a treaty, he learns that his ability with the harp is a talent that traces back to the magical foundations of a once-united Seare. But his newfound home is soon placed in peril, entangling Conor in a plot that has been unfolding since long before his birth.
Only by leaving both kingdoms behind and committing himself to an ancient warrior brotherhood can Conor discover the part he's meant to play in Seare's future. But is he willing to sacrifice everything—including the woman he loves—to follow the path his God has laid before him?
This book incorporates three things I love dearly: Ireland, romance, and fantasy fiction. If you're a newcomer to the genre and don't know if it's your thing… or you're not even sure where to start, you're in luck. I've compiled a super easy, super abbreviated reference guide so the next time you're staring down that Fantasy & Sci Fi section in the bookstore, you'll know exactly what to look for!
Carla's Super Simple Fantasy Guide for Beginners
My first published books were contemporary romance, so most readers are surprised to find out that I'm also a fantasy writer. The comment I hear most often is not "I don't like fantasy" but "How do I even know if I might like fantasy?"
I get it. The genre can be intimidating, simply because it spans a wide spectrum from historically plausible to completely invented, from recognizable to utterly foreign.
So, if you're one of the newcomers to the genre and you're not sure where to start, here's a handy-dandy guide to fantasy genres to guide you on your way.
High Fantasy
High fantasy is a descriptor for a story that takes place in a fully made-up world with its own rules, culture, and often its own magic. It has a high amount of fantastic or fictional elements. This is the form of the genre that most people think of when they talk about fantasy.
Examples: Lord of the Rings, A Game of Thrones, The Mark of the Raven, Oath of the Brotherhood
Low Fantasy
Low fantasy, in contrast to its counterpart, high fantasy, is a story that takes place in our recognizable "real" world, whether it be modern times or a historical time period, in which fantasy or magical elements intrude or co-exist. It has a low amount of fantastic or fictional elements.
Examples: Harry Potter, Twilight, City of Bones, Storm Front
Epic Fantasy
Epic fantasy is often conflated with high fantasy, but it doesn't necessarily have to take place in a fully made-up world. Epic fantasy generally takes a wide-angle view, concerning itself more with big events and world-ending consequences, often involves a quest, and may follow one or very few characters through a big, overarching story.
Examples: Lord of the Rings, Tigana
Portal Fantasy
Portal fantasy is a subgenre in which the characters are literally transported by magic from the real world, through some sort of door or passage, into a fantasy world. This is a very common sub-type among children's fiction, because it allows readers to discover a fantastic world through the eyes of a character who possesses the same points of reference as their own. In some ways, it's a combination of high and low fantasy.
Examples: The Lion, the Witch, and the Wardrobe, The Ten Thousand Doors of January, The Summer Tree
Heroic Fantasy/Sword-and-Sorcery
Sword-and-sorcery is often looked down upon when it comes to fantasy subgenres, but it can be of the most fun! Books in this subgenre usually focus on the fighting prowess of a main heroic character; sometimes the protagonist possesses magic himself, but often he fights sorcery with nothing more than a sword and his own cleverness. The lead is often, but not always, male. (Actually, I could do with some more female sword-and-sorcery? Someone? Anyone?)
Examples: Conan the Barbarian, The Blade Itself, Silverglass, Xena: Warrior Princess (novelizations)
Historical Fantasy/Alternate History
I've grouped historical fantasy and alternate history into the same category, because often authors who write in one subgenre also write in the other. The main difference is that the historical fantasy world is modeled on an existing historical culture or uses historical events only for inspiration; alternate history uses real world history up to a particular point, then diverges from it, either because of the emergence of magic or because of supernatural/time travel/magical interference. (You can also have largely-realistic alternate history that does not fall into the fantasy genre, such as The Man in the High Castle by Philip K. Dick.)
Examples: Sailing to Sarantium, The Dark Mirror, Oath of the Brotherhood, Clan of the Cave Bear
As you can see, several of the example books fit into several different categories, including my own book, Oath of the Brotherhood. In it, I borrowed from the real-life history and culture of ancient Ireland to create a new fantasy world in which magic and religion collide and the fate of the nation hangs on the bravery of an unlikely trio of characters.
Did you discover any new genres/subgenres today? Is there one in particular that you're excited to try? Do you have a favorite fantasy subgenre that I didn't cover?
Here's the Stop #12 Basics:
If you're interested, you can order Oath of the Brotherhood on Amazon, Barnes & Noble, ChristianBook, or at your local bookstore!
Clue to Write Down: and ready
Link to Stop #13, the Next Stop on the Loop: Carrie Turansky's site!
But wait! Before you go, enter my giveaway below to win your own hardcover copy of Oath of the Brotherhood and this beautiful hand-tooled leather Celtic knot bookmark!

Tags: fantasy, giveaway, Oath of the Brotherhood, scavenger hunt, Song of Seare