Taking Aim: Your Target Market (Marketing Plan #4)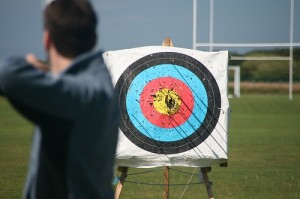 Originally published by ACFW Colorado's The Inkwell Blog.
I'll admit it… in every marketing plan I've ever written, this is my least favorite section. Not because it's not important. In fact, it could be one of the most important sections in your plan. But while we often know who our audience is, it can be incredibly difficult to define. It's even trickier to get hard numbers. It is crucial, though, because having a good understanding of your readership will help you focus marketing efforts (social media, blog topics, promotions) into areas most appealing to your potential readers.
When discussing a market (and market share), there are three factors on which we normally focus.
Market size
Demographics
Psychographics
Market size is a tricky thing to determine. A little internet research will turn up the year's average sales in each genre, but it's tough to know how many readers that really encompasses (or how many book sales the number equates to). For our purposes, it's enough to know how your chosen genre stacks up in the overall book market. Typically, romance is at the top, followed by the generalized inspirational market (which do not get broken down into sub-genres), mystery, science fiction and fantasy, and literary fiction.
Demographics are the physical characteristics of the readership, and a question you'll eventually need to answer in your book proposals. Most likely, as a reader of your genre, you have a pretty good sense of what type of people read your books. Take a moment to jot down who you think your readership might be. I'll take Amish fiction as an example.
Female
Ages 16-80 (but primarily 35-55)
Married
Psychographics on the other hand, are the attitudes, values, and lifestyles that determine the buying behavior of your audience. The psychographics for Amish fiction might look like this:
Politically conservative
Evangelical Christian
Focused on family and home
Yearn for a simpler lifestyle
May live a very modern life, but likes the idea of slowing down
Prefers gentler, inspirational storylines
Likes to craft and cook
But what if you don't know these details? Professional writers' organizations such as RWA (Romance Writers of America) and SFWA (Science Fiction & Fantasy Writers of America) conduct market research projects that can give you a very specific breakdown of readership. A little time with Google should turn up many of the studies available online.
Failing that, a little creativity might be in order. My favorite trick is to figure out what types of magazines would appeal to readers of my genre or my particular book– and then download their advertising/media kits. Magazines keep a close eye on both the demographic and psychographic profiles of their readership and provide detailed information to potential advertisers.
Another source of information would be enthusiast forums and reading groups for your genre. Lurk about (or engage participants in conversation). What other types of activities do they enjoy? What topics might interest them?
This week's action items: Make a list of characteristics of your target market. Download press kits from magazines that are likely to have overlap with your readership. Identify three topics about which you can blog that might be of interest to your target market.
Next week: Defining your marketing objectives.