Objectives: Begin With the End in Mind (Marketing Plan #5)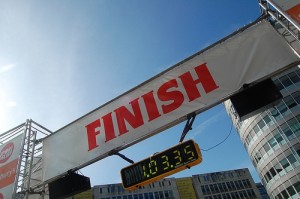 Originally published in ACFW Colorado's The Inkwell Blog.
The past several weeks, we've discussed the elements that form the framework of your marketing plan. Today we'll begin the section that forms the meat of your plan: objectives, strategies, and tactics.
Starting a marketing plan without defining these three elements is like taking a road trip–without knowing where you're going, how to get there, or what you'll do when you arrive. Objectives are the overall goals you want to accomplish: your destination. Strategies are the overarching plans you use to reach those goals: your route. And tactics are the specific steps you'll use within those strategies: your waypoints.
You've probably heard Stephen R. Covey's Second Habit of Highly Effective People: "Begin with the end in mind." There is no truer statement in marketing, and your objectives will define this end. Three things are required for a good objective.
It must be specific
A good objective will lay out a specific goal within a finite time frame. Compare the objective "Increase book sales" to "Increase book sales by 20% by December 2013."
It must be measurable
The objective above is measurable because you can clearly define how much of an increase in sales you achieve, either by sales figures or royalty statements. A bad objective: "Do better with online sales." In this case, better is hard to define and will mean different things to different people. A good objective: "Achieve at least #2 ranking in my category on Amazon by December 2012."
It must be achievable
Becoming a millionaire by Christmas might be measurable and specific, but for most writers, it's not achievable. Choose something that you can reasonably make happen within a specific time frame.
Your overall marketing plan may take into account the long term, but objectives are most easily achieved when they're 3-, 6-, 9-, or 12-month goals. The temptation to stray off course is higher the longer the time frame.
Not all objectives have to be sales related. If you're a published author with books on the shelf, your goals may very well be financial. If you're unpublished or pre-published, your objectives (and your whole marketing plan) might be focused on platform building.
Some examples of sales related objectives
Increase book sales by 1000 units by February 2013.
Increase ancillary sales (workbooks, audio products) by 15% percent by June 2013.
Book 10 speaking engagements in 2013
Examples of platform-related objectives
Achieve 400 followers on Twitter by March 2013
Get 200 likes on Facebook author page by December 2012
Compile 150 e-mail addresses on mailing list by June 2013
This week's action items: Define at least two objectives for your marketing. Make sure they're specific, measurable, and achievable.
Next week: Tactics, Your Road Map to Success