London Tides: The Author's Cut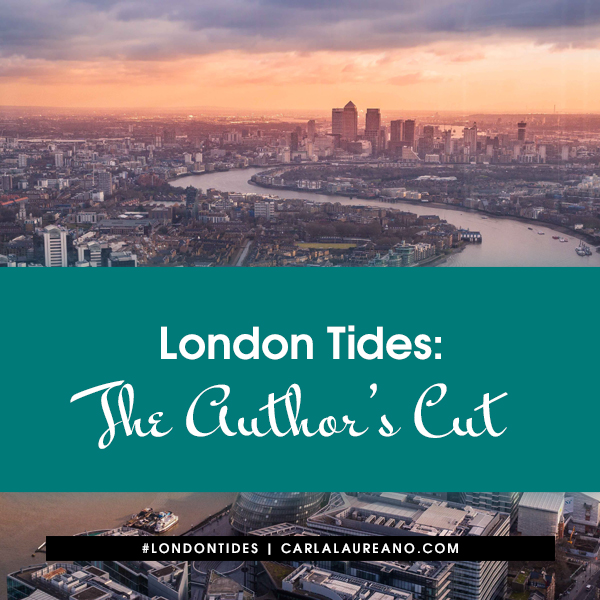 This week marks the the paperback re-release of Five Days in Skye and the re-release of book two, London Tides, in both e-book and paperback format. But unlike Five Days in Skye, which got some minor editing and updating to reflect changes in technology, London Tides is getting a second edition complete with brand new scenes, what I'm calling the "Author's Cut."
When this book was first written and edited in 2014, I envisioned different elements in the last quarter of the story. However, the original publisher thought that it was too edgy and asked for it to be rewritten before it went to print. (Two months before it went to print, which was a special challenge, let me tell you!) There had been several controversial books that had just been pulled from Christian bookstores, and the managing editor didn't want to risk the chance of London Tides joining them. So I cut a chunk of the book, wrote an alternate "black moment", and stitched the pieces back together. I was proud of the finished product, even though it wasn't exactly as I had originally envisioned the book.
In 2016, the entire MacDonald family series was purchased by Tyndale House. While we were discussing the plans for the repackaging of the first two books, I told my editors what had happened with the publication of the book, and they asked to read the original version. They didn't think that it was too edgy, but we all agreed that there were elements that should be changed to make it better fit both my brand and the expectations for a Tyndale book. My fearless editor, Sarah, spent countless hours comparing versions so we could take advantage of the excellent copyediting the rewritten draft had gotten before publication. Then I worked to incorporate my favorite scenes from both versions to create a second edition that combines the best of both drafts. If you've read the book before, chances are you won't notice the smallest changes unless you have a photographic memory (or you've read it many, many times). You will, however, notice the bigger plot changes near the end. I hope you think, as I do that, it fits better with the character arcs I established and Ian and Grace's need to come to terms with their past choices and mistakes.
I'm so grateful that I had the chance to return this book to my original vision. On one hand, I don't want to overstate the new elements as so much of the story remains the same, particularly its heart. On the other, it's important to me that everyone understand the hows and whys behind the changes, especially if they turn out to be a little controversial!
Everyone who has already read the original form of London Tides–thank you! I have no expectation that you'll buy another copy of the book, though curiosity may lead you to do so anyway. If you do, I'd love to hear what you think about the changes. At very least, the book becomes a bit like a "choose your own adventure": you can pick the version you love best for your keeper shelf. Regardless, thank you so much for all your support and love for this series. I'm so glad that these are once again available, and I can't wait to reveal the long-awaited third book next year!
Tags: alternate ending, London Tides, second edition