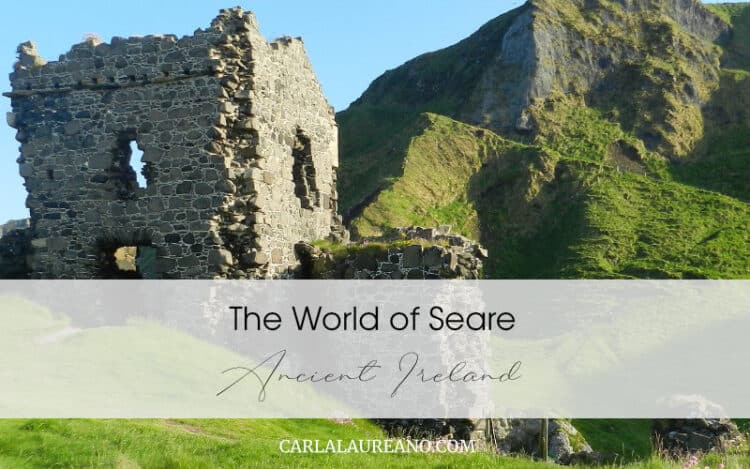 While Oath of the Brotherhood is 100% fiction, I enjoyed using a backdrop of the real culture of Ancient Ireland from about the 3rd century to the 7th century for my fictional Seare. We tend to believe that the peoples and cultures outside Rome at that time were barbarians (partially thanks to the fact that most of our records come through the Romans…) but in truth, Ireland was an advanced civilization with customs and habits that are much more consistent with our understanding today.
The ancient Irish loved bathing. – While people on the continent either didn't have access to or were suspicious of daily baths, the Irish were extremely fastidious with their personal hygiene. Bathing was quite usual among the upper classes, and stories from the era reflect that guests were often offered the use of a bath when coming to a keep or monastery. There is also plenty of evidence that the upper class warriors would bathe while on the march or encamped during war, which suggests that cleanliness was of the utmost importance.
The ancient Irish were obsessed with their hair. – It wasn't just cleanliness that was important (though we're told in many manuscripts that clean hair should be combed smooth after the daily bath), but fashion as well. Both men and women wore their hair long and in elaborate coils, which must have been done with some sort of primitive curling iron and suggests the interest of professional hairdressers. Men are also spoken of having their hair done in "hooks and plaits and swordlets." The illuminations in the Book of Kells backs up this standard of fashion, as every figure within it, including the angels, has his or her hair elaborately dressed.
The ancient Irish wore kilts. – We associate the kilt with the Scots after the 17th century, but drawings, carvings, and illuminated manuscripts well before the 11th century demonstrated that the garment was worn in Ireland as well. Likewise, the tartan pattern may have had its origins in Ireland, though traditionally the pattern is tied to a county or province and not a single clan. While this clearly would have been historically correct, the kilt is so strongly associated with Scotland that I decided not to incorporate into the world of Seare. Instead, men wear knee-length tunics, over which is worn a close-fitting jacket or vest and leg-coverings/trews/trousers, which is also consistent with Celtic tribes in the first millennium.
The ancient Irish (almost) worshipped weapons. – Weapons in pagan Ireland were so important that they were sometimes treated as though they were sentient or outright worshipped. This gave rise to the practice of swearing oaths of them, a practice that I borrowed with the Fíréin and their oath-binding ceremony. Of course, the oath-binding sword was a little more special than the standard blade…and if the ancient Irish had've come across that in the course of actual history, it would be understandable that they'd think it had a mind of its own!
The ancient Irish didn't necessarily raise their own children. – There was a centuries-long tradition of fosterage, not just within the very wealthy, but in lower classes as well, where children would be sent to live with another family within the clan. They might be sent away as young as a year old and brought back at marriageable age (seventeen for boys, fourteen for girls). In the meantime, the children would be raised as a member of the foster family and be educated according to their station; sometimes this was done for love, others for payment. Regardless, the ties between foster-child and foster-parents were often stronger than those with their birth parents and considered sacred. While I've nowhere seen it spelled out why this is a principal feature of Irish culture, it seems reasonable that it was done to strengthen ties within a clan and outside individual bloodlines. Children could also be sent to literary or ecclesiastical fosterages, where they would be educated as scribes or priests. A number of early Irish saints were fostered in this manner, and it seems a reasonable way to educate acolytes for specialized service. As Oath of the Brotherhood begins, it's differences on what constitutes an appropriate education that gets Conor in hot water and has him sent to a neighboring king as a hostage for their peace treaty.
While many of the other details of Seare were changed or completely invented, Ireland's rich history and surprisingly advanced culture was the perfect canvas upon which to build a new fantasy civilization.
Did you learn anything new? Leave me a comment below and get your daily entry to win a hardcover copy of Oath of the Brotherhood. And don't forget to complete your one-time tasks for extra entries!
Oath of the Brotherhood HC Release

Tags: ancient Ireland, giveaway, Oath of the Brotherhood, Song of Seare