Oath of the Brotherhood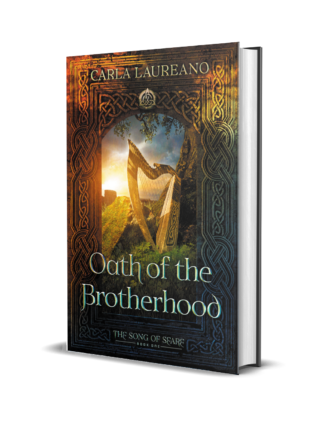 January 12, 2021
Publisher: Enclave Publishing

The Song of Seare Book 1
This reissue of the 2014 novel is a beautifully envisioned limited edition hardcover, with behind-the-scenes information and supporting materials.
When evil threatens, who will find the faith to fight it?

In an island kingdom where the Old Ways hold fast and a man's worth lies entirely in his skill with the sword, Conor Mac Nir is a musician and a follower of a forbidden faith—problematic for any man, but disastrous for the son of the king.
When Conor is sent away to a neighboring kingdom to secure a treaty, he learns that his ability with the harp is a talent that traces back to the magical foundations of a once-united Seare. But his newfound home is soon placed in peril, entangling Conor in a plot that has been unfolding since long before his birth.
Only by leaving both kingdoms behind and committing himself to an ancient warrior brotherhood can Conor discover the part he's meant to play in Seare's future. But is he willing to sacrifice everything—including the woman he loves—to follow the path his God has laid before him?
Laureano pulls readers into this story and does not let them go. From the first page to the last readers are gripped by the multifaceted story. RT Book Reviews

Print:






eBook:





Conor is a refreshing heroic figure, notable for his intelligence and faith. He takes counsel from those who are more experienced than he is after he joins an ancient brotherhood of warriors. The balance between his faith and his personal moral code makes him compelling. Aine, meanwhile, is his equal in every regard. Theirs is a warm romance, used to balance the book's more dramatic scenes. The book works toward a hopeful ending, if one behind which exists a glimmer of darkness, too. The devout characters of Oath of the Brotherhood face dire circumstances in this introduction to a faith-driven fantasy epic. Foreword Reviews