Marketing Monday: Twitter Tools You'll Use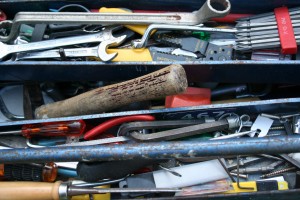 I'm still getting a hang of the whole Twitter thing. Asking a writer to condense a complete thought into 140 characters is a little like asking Elton John to give up the bling. It could happen… but not easily or often.
Still, as I explore the Twittersphere, I've come across a number of tools designed to make Twitter easy and fun. Here are the good, the bad, and the ugly:
Buffer (www.bufferapp.com) – I've talked about Buffer before in other posts, and it's one of my new favorites. It allows you to schedule your social media posts in advance, and a handy-dandy icon lets you buffer just about anything you come across on the web.
Pros – When used with a feed reader, it's an effective way to share interesting bits from the web across multiple social media sites with one click. It also lets you schedule posts throughout the day so you don't overwhelm your followers.
Cons – It only works with Facebook, Twitter, and LinkedIn. Word on the street (okay, the official blog) is that they're working on Google+ integration. (I'm going to be phasing out my use of Buffer on Facebook, though. FB penalizes posts made through third party apps so they appear in a much smaller percentage of your follower's feeds.) But, it's still stellar for Twitter and LinkedIn.
Hootsuite (www.hootsuite.com) – This is an online social media dashboard that allows you to manage multiple social media sites in one place, much the same way Buffer does, though you must schedule each post as opposed to having it done automatically.
Pros – Nice interface, excellent mobile app, web-based interface keeps everything synced among devices, ability to create your own feeds based on hashtags, lists, etc.
Cons – Learning curve, no automatic scheduling, free version limits you to five accounts or pages which sounds like a lot but can get used up rather quickly
Tweetdeck (www.tweetdeck.com) – This is a similar concept to Hootsuite, designed to let you manage multiple social media accounts in one place. I won't even do pros and cons for this, because frankly, I don't like the interface so I haven't used it enough to develop any pros. The mobile version is not great, either. But I know people and companies who swear by it, so check it out and see for yourself.
SocialOomph (www.socialoomph.com) – This is another one with which I only have limited experience, so I can't speak to the functionality. The free version only offers Twitter tools, while the pro (paid) version adds additional social media site integration (Twitter, Linked In, App.net).
Pros – The free version offers long-term scheduling and hashtag/topic tracking. For an additional fee, you can add Auto-Follow and Auto-Direct Message features.
Cons – You need to pay to unlock the truly cool features. Unless you need to bulk-schedule repeated tweets for months on end, you can find a free version that does the same and more.
Hashtags.org (www.hashtags.org) – Don't confuse this with the much less helpful "hashtag.org." This site gives you definitions for hashtags, as well as a graphical trending report that shows the frequency of use by hour. Great for figuring out trending tags and the best time to post. Most of the powerful analytics are only available to subscribers ($49-99 a month), but the basic free version can give you some great info.
Are your favorite Twitter tools on the list? Which sites/software do you recommend?
Tags: Buffer, Facebook, Hootsuite, productivity, social media, SocialOomph, Tweetdeck, Twitter, twitter client