Marketing Monday: Choosing a Platform (Author Sites, Part 2)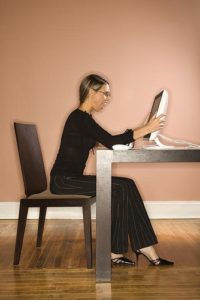 As an author, you have a number of different options when it comes to building your website. Your first option, of course, is to have someone design and build a site for you. The cost of a custom designed or modified site can run anywhere from $500 for a customized WordPress theme to $7000 or more for a fully functional design that incorporates e-commerce capability and a back-end interface for updating content.
However, I'm going to assume if you're reading this post, you don't have seven grand to drop on a website. I'll also assume that you're somewhat of a do-it-yourself type that's willing to fiddle around a bit to get a result you like.
Naturally, if you have web design experience, you can put together a site from scratch using HTML, XML, and CSS. If that collection of letters looked like alphabet soup to you, though, you're going to want to use one of the user-friendly blogging platforms for your site.
Currently, you have two main options: Blogger and WordPress. (I personally believe Typepad, while once a viable option, is on its way out.)
Blogger
Of the two blogging platforms, Blogger is by far the easiest and has the shallowest learning curve. Anyone can get a Blogger site up and running in fifteen minutes or less, though it will certainly take longer to customize and add themes. And free themes are in abundance—an evening with Google will surely yield a design to suit any look and feel you want. Additionally, Blogger allows you to redirect to a custom domain for free. That means rather than having an address like "carlalaureano.blogspot.com," I can redirect to www.carlalaureano.com.
There are some drawbacks to Blogger, however. For one, it doesn't support categories, which can make your blog posts difficult to navigate. For another, it does not support e-commerce functions, so if you decide you want to sell books or other products from your site, you can't just add a "buy now" button.
Should you use it?
That depends on your needs. If you want a quick and simple set-up, and you don't mind that it will always look like a blog rather than a website, Blogger might be the option for you. However, its flexibility and customization options are limited, so if you want to be able to control exactly what your site looks like, it will most likely fall short.
WordPress
WordPress is currently the most popular platform both for bloggers and for site owners who want the flexibility of mixing static pages with blog posts. You can find plenty of free themes and even more plug-ins to do just about everything you could possibly want, from embedding iFrames (useful if you want to put Scribd excerpts on your site) to giving you multiple customizable sidebars. Because it's highly customizable, it's also considerably more complicated to use.
If you want to go the WordPress route, you have two choices: put your site on WordPress.com or self-host it via your own web host (WordPress.org).
WordPress.com
The advantages of hosting your site with WordPress is threefold: it's free, it's quick to set up, and most of the heavy lifting is already done for you.
On the other hand, you have fewer free themes to customize the look, you must pay for extra functionality (custom domain redirect, for example), and you're limited on space. If you like to vlog or post lots of large photos, you might want to consider your memory usage before deciding to go with a WordPress.com site.
WordPress.org (Self-Hosted)
There are quite a few advantages of self-hosting WordPress through a web host. You have complete control. It's more secure. Premium features are less expensive, and depending on your host, you most likely will have unlimited space.
The drawbacks are huge, though. You have complete control. That means if your site goes down and it's not your webhost's fault, you're responsible for figuring out why. It does take longer to set up and install on your own site, and you have to pay a monthly hosting fee.
Which to choose?
For my money, I'd go for the self-hosted WordPress site–and in fact, I have–but if the prospect of maintenance scares you, you can always host it with WordPress.com and pay $18 for custom domain mapping.
Next week we'll talk about the process of selecting a web host, buying a domain name, and taking the first steps to constructing your home on the web! If you missed part one last week, don't forget to read it here to learn the three things that your home on the web should be doing for you.
Tags: blog, Blogger, blogging platform, self-hosting, web host, website, wordpress