Words for Women: Put Away the Comparasaurus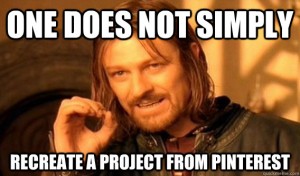 I love the website Pinterest Fail. Not because I have a sadistic need to laugh at other people's misfortune (well, not usually, but let's face it –some of them deserve a "what were you thinking?") but because it feels like a show of solidarity for those of us who aren't the perfect housewives and crafty mothers.
It's not that I'm not crafty. Actually, I know how to do a lot of crafts: knit, crochet, needlepoint, cross-stitch, decoupage, scrapbook, etc. It's just that I rarely have time to do it. So while the other stay-at-home moms are bringing gorgeous homemade cupcakes decorated like sunflowers to their kids' preschool birthday parties, I'm the one bringing packaged cheese sticks or store-bought cupcakes with little plastic Spiderman rings shoved in the frosting. Don't think I don't notice those little looks of disapproval from you, Crafty Mom.
But, I think, I've written four full-length novels in two years! I blog three days a week. I write a half-dozen guest blogs a month. Crafty Mom hasn't done that. Now, she's probably stitched together a gorgeous book of family photographs for her children, complete with handmade paper, but that's not the same thing.
And then I think: What am I trying to prove?
As my friend, Jennifer, told me once, "Put away the Comparasaurus." It makes me laugh, because that's exactly what it is. Keeping score on who can be the better mom, the better school helper, the better housekeeper (okay, so I gave up on that last one about twelve years ago).
The thing I've come to realize is… my kids don't care. It's more important to them that I show up for the school birthday party, even if it's with store bought goodies. I'm home to help with homework. I'm free to chaperone school field trips and help on Field Day. I chauffer them around multiple times a day to their activities. And when that box of books that mom wrote arrived at the house, I saw their faces light up. They don't quite understand what being a writer entails, but they get that it's pretty cool and kind of rare to have an actual book with your name on it.
So, Crafty Mom, I'm sorry I thought mean things about the fact you brought handmade cards and a bouquet of roses that you cross-bred and raised yourself to Teacher Appreciation Week. I bet your kids think you're pretty awesome, and they'd be right. But my kids think I'm pretty awesome, too, and that's all that really matters to me.
How do you silence that little urge to compare yourself to others?
Tags: comparisons, crafts, Pinterest, stay at home moms