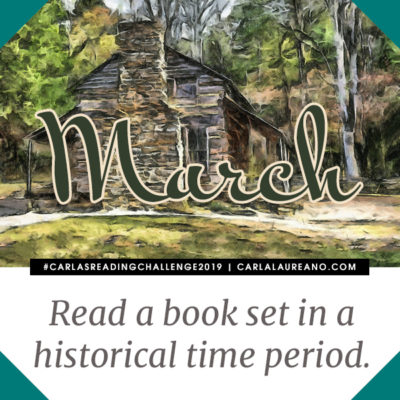 Happy March, everyone! I'm not entirely sure how this happened, since last time I checked, I was putting away the Christmas tree. But here we are, just a mere three weeks away from spring! And if you're like me, it can come none too soon. This has been a cold, cold winter in Colorado!
However, if the cold weather persists a little longer, I won't complain, because there are still books to be read by the fire. And this month, your challenge is to read a book set in a historical time period. It can be any period that's not contemporary, but for the sake of this argument, let's call "historical setting" pre-1980, since the majority of us were alive to see the '80s and calling that historical just makes us feel old.
I haven't yet decided what I'm going to read, but I've currently got three novels on my shelf that fit the bill: Keturah by Lisa T. Bergren, Caught by Surprise by Jen Turano, and The Solace of Water by Elizabeth Byler Younts. I think I'm going to let my mood dictate which one I choose, but don't forget to check back at the end of the month to see which one won and to share your own challenge choices.
As always, you can see all the challenges here. And don't forget to hashtag your posts #carlasreadingchallenge2019 so we can all follow along!
Tags: historical fiction, reading challenge