Interview with Author Susan May Warren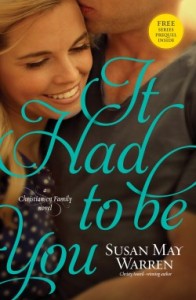 Today, I'm thrilled to welcome one of the most recognizable (and awarded!) names in Christian Fiction, Susan May Warren. I came to Susan's books somewhat later than a lot of you readers, but My Foolish Heart remains one of my favorites from the last several years. Today she's here to talk about her newest novel, the second book in the Christiansen Family series, It Had To Be You.
Carla: Welcome, Susan! Can you tell us a little about your book?
Susan: I just love the characters of Jace and Eden. Eden is your typical older sister – wanting the best for her brother. But he's a professional hockey player and certainly doesn't need her meddling – except, maybe he does, because he's managed to drive his life into the ground. More than anything, she wants to be an investigative reporter, but somehow she's stuck in the obits department, unable to escape.  I juxtaposed her with tough guy Jace Jackobsen. As an "enforcer" for the MN Wild, he's known for his brawling on the ice – and has paid the price in broken bones, fines and suspensions. One more concussion could cost him his life.
I decided these two not only needed each other, but they needed a project to work on together – enter John Doe, a boy they find in the hospital while visiting Owen after he's injured.  I loved the adventure of tracking down the identity of this boy, and how in the end, it helps them discover their own identities. I call it a modern day Good Samaritan story – but the lives they save are their own.
Carla: Okay, I'll admit, I'm hooked. But then again, I was intrigued when I heard It Had to Be You involves professional hockey. What inspired this particular story?
Susan: This book idea came together from a few different "nuggets."  The first nugget came from an event at a track meet a few years ago where I saw the event that I wrote about in the book – a boy who was disqualified and it cost his team their chance at the state finals.  The second nugget came while watching the summer Olympics a couple years ago.  I watched these athletes, and heard the stories of all that their families did to get them there, and I began to wonder about what happened to the family if their athlete failed. Or…once the competition was over.  And, what if there was a non-athletic sibling in the family – did they get left behind?
Finally, the last nugget came this fall, while cheering on my son in football.  He wasn't playing up to snuff, and my husband and I sat town to ask why.  He told me that he didn't want his only reputation in school to be of a "tough guy" on the filed.  (He played defensive end).  Interesting.
I put these nuggets together and thought – what if I wrote a story about a sibling, who feels outside the limelight of her awesome brother, and a hero who feels trapped by his reputation as a tough guy. I knew I wanted to write about hockey (this is Minnesota, after all!) so the story just sort of fell together.  The nugget about the track star became the backbone of my subplot….
And that's all I'm going to say about that. 🙂
Carla: It's clear that you love Minnesota in the way you handle the descriptions of the place and the people. But you were also a missionary in Siberia for eight years. How did those experiences change your perspective? How do they inform your writing?
Susan: Great question!  I think the biggest thing Russia did for me was to teach me to look deeper into the WHY of a person's behavior. I learned to love Russians like my own family and my experiences there made me a better person.  I also set my first book in Russia, so I'll always be grateful for the rich experience of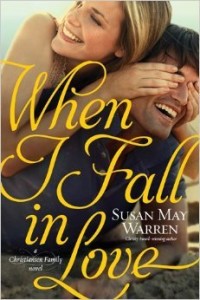 living there.
Carla: What can we look forward to next from you?
Susan: A fun story about a wanna-be Iron Chef who goes to Hawaii and gets involved in a cooking contest! She's paired with an unlikely chef – hockey star Maxwell Sharpe, and discovers that they can create something delicious – in the kitchen, and out.  But when she discovers a terrible secret about him, she'll have to choose between her happily after ever and the only man she'll ever love. It's called, When I Fall in Love, and it's out in July 2014.
Carla: Put that one on my list too! Now for the "lightning round" portion of our interview… What character in your most recent novel is most like you? Was that intentional, or did it just come about in the course of the writing?
Susan: I just finished a novella for next Christmas called, Evergreen, and it's about John and Ingrid Christiansen who are in the empty nest years of their lives…until they get an unexpected Christmas gift.  Suddenly, they discover old wounds and fears resurfacing – the kind that could destroy their marriage.  How do they keep their love Evergreen in the winter of their lives? 🙂
I loved this story because it resembled something that happened to my husband and I…and I loved sharing the truth that we discovered in it.  I am very much like Ingrid Christiansen. But I'm also MaryAnn Wallace (The Great Christmas Bowl) and of course, PJ Sugar.  (Okay, I'm probably a little of all my characters!)
Carla: Are you a pantser, a plotter, or somewhere in between? One-and-done or successive drafts? Same the every time or different with each book?
Susan: I am both.  I plot out all the big pieces of the story – the Dark Moment of the past, the Inciting Incident, the Quest, the big Turning Points of Act 2, the Black Moment, the Epiphany and the Hurrah Ending.  Then, I sit down and "tell myself the story" so that I can see how it flows and if it all goes together.  When I sit down to write, I use this as a roadmap, but then I let myself craft each scene as it comes, knowing what my author objectives are, but letting the characters take the stage and tell the story.
Carla: What three items are essential to your writing process?
Susan: Popcorn (for those in-between scene snacks!)  Soundtrack music (so I can get into the mood) and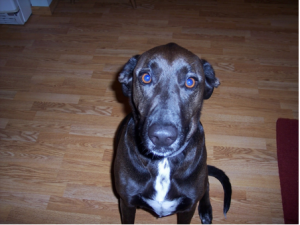 my Book Buddy – a workbook I use for every story (it contains the synopsis as well as prompts and helps for each chapter).
Carla: Best invention of the 20th-21st century?
Susan: TIVO. 🙂
Carla: What is currently on your desk?
Susan: Green Smoothie.  My cell phone.  My calendar/journal book.
Carla: Dog, cat, or other pet?
Susan: Dog.  Named Gracie.
Thanks so much for joining me today, Susan! Readers, don't forget, today's post gives you several chances to win a copy of It Had to Be You as part of my great Winter Warm-Up Giveaway! ***Contest is now closed***
About Susan
Susan May Warren is the RITA, Christy and Carol award-winning, best-selling author of over forty novels. A popular writing teacher at conferences around the nation, she's also the founder of www.MyBookTherapy.com, a craft and coaching community for novelists.  Visit her at: www.susanmaywarren.com
About It Had to Be You
Eden Christiansen never imagined her role as her younger brother Owen's cheerleader would keep her on the sidelines of her own life. Sure, it feels good to be needed, but looking after the reckless NHL rookie leaves little time for Eden to focus on her own career. She dreamed of making a name for herself as a reporter, but is stuck writing obits—and starting to fear she doesn't have the chops to land a major story. If only someone would step up to mentor Owen . . . but she knows better than to expect help from team veteran and bad-boy enforcer Jace Jacobsen. Jace has built his career on the infamous reputation of his aggressive behavior—on and off the ice. Now at a crossroads about his future in hockey, that reputation has him trapped. And the guilt-trip he's getting from Eden Christiansen isn't making things any easier. But when Owen's carelessness leads to a career-threatening injury and Eden stumbles upon a story that could be her big break, she and Jace are thrown together . . . and begin to wonder if they belong on the same team after all. Order It Had to Be You: Amazon | Barnes and Noble | Christianbook.com
Tags: hockey, inspirational fiction, It Had to Be You, romance, Susan May Warren