Interview With Author Amy Matayo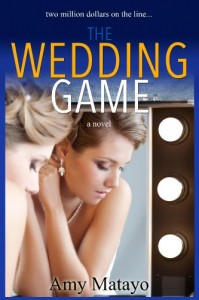 I'm thrilled to welcome a good friend and fellow contemporary romance author, Amy Matayo. If you don't already follow Amy on Facebook and Twitter, you're going to want to–she keeps all of us in stitches with her dry sense of humor and lately, rants against snow in Arkansas.
Carla: Welcome, Amy! Your first book, The Wedding Game, debuted in November 2013, and it's been getting great reviews. Can you tell us a little bit about it?
Amy: The basic plot is a Hollywood playboy and a small-town Arkansas girl both need money, so they audition for The Wedding Game—a nationally televised Bachelor-type reality show—make the cut, and eventually win. But if they want their hands on the two million dollar prize, they have to stay married for six months and convince America by a revote at the end that they've fallen in love.
Carla: Well, it won't surprise you that I liked the playboy part. Tell me, how did you come up with the idea of doing a Bachelor/Bachelorette type spinoff for your debut novel?
Amy: As for the idea, a couple of years ago I was watching Good Morning America while getting dressed for work. They were running a feature on Kim Kardashian, telling about her recently-announced divorce. Well, I had just watched clips from her televised wedding a few days earlier, so I knew she had only been married for a month or so. Annoyed, I turned to my oldest son and said "You know, pretty soon there's going to be a reality show where two strangers get married for money. Wouldn't that be awful?" I meant to sound outraged, but instead my brain started spinning. I started writing The Wedding Game the next day.
Carla: I loved that part of it. There is definitely a strong theme about the "unreality" of reality shows and the sort of relationships that develop within them. What can we look forward to next from you?
Amy: I've already written my next two, actually. Love Gone Wild is a sort-of sequel to The Wedding Game in that it's reality-show based (a Survivor-type show set in the Alaskan wilderness). It comes out this March. And then later in the year will come Sway, a New Adult romance that intersperses a political theme of separation of church and state.
Carla: I'm looking forward to reading both of those (hint, hint…) Before we go, it's time for the lightning round. (Oh, come on, I wasn't going to pass up a game show reference!) First question: If you could live life as one of your characters (from any of your novels), which would you choose?
Amy: I would live the life of Anna, my character in Love Gone Wild. She gets to travel to Alaska and try to survive the wilderness for thirty days. That speaks to the adventurer side of me, which I rarely get to visit with four kids and lame adult responsibilities.
Carla: Speaking of adult responsibilities, what's the worst job you've ever had?
Amy: Shrink wrapper at DaySpring Cards. I looked like I Love Lucy trying to keep up with chocolates as they flew by on the conveyer belt.
Carla: Ha! That's my favorite episode. Okay, are you a pantser, a plotter, or somewhere in between? One-and-done or successive drafts? Same the every time or different with each book?
Amy: A complete pantser who is trying desperately to transform into a plotter. It isn't going well. As for drafts, my first are pretty clean, but I still require edits. It's the same every time.
Carla: What three items are essential to your writing process?
Amy: Besides computer, I need a water bottle, my cell phone, and a pen/paper.
Carla: Right, so I can interrupt your work with Facebook messages. What song/album most influenced the writing of your current/most recent book? Why?
Sleeping With Sirens Feel album. It's Indie and fun, and my latest book (that I've written) is music-based with the same feel.
Carla: And last but not least, favorite activity for procrastinating when you should be writing?
Amy: Social Media surfing. For me, it is a complete time-suck.
Ding ding, thank you for playing, Amy Matayo. (Yes, cue the "boos" for that seriously cheeseball game show tie in.) Seriously, thanks for dropping by today. It's always fun to chat with you. And readers, don't forget to enter my giveaway below, which will include a copy of The Wedding Game for one lucky winner as well as some other great prizes. ***Contest is now closed***
About Amy
I graduated from John Brown University with a degree in Journalism.
After graduation, I went to work for DaySpring Cards—a division of Hallmark—where I worked for seven years as Senior Writer and Editor.
After the birth of my first child I became a freelance writer before pursuing novel-writing full time.
My first contracted novel—The Wedding Game—won the 2012 ACFW Genesis Award. It released on November 16, 2013. My next book, Love Gone Wild, releases March 1.
As the mother of four children with a husband immersed in political life, I have very little free time. I prefer to spend that time enjoying intellectual pursuits such as: watching television with my feet propped up, watching movies with a bucket of popcorn, and watching my laundry pile high—with no desire to do anything about it.
It's a fun life.
Connect with Amy: Web | Facebook | Twitter
About The Wedding Game
Cannon James has a plan: Sign on as a contestant for his father's new reality show, marry a blonde hand-picked by the producers, and walk away two million dollars richer. It's all been arranged. Easy. Clean. No regrets. Until Ellie McAllister ruins everything by winning the viewer's vote. Now he has to convince America that he's head over heels in love with her. Not easy to do since she's a walking disaster.
Ellie McAllister has her own problems. She needs money, and she needs it now. Despite her parent's objections and her belief that marriage is sacred, she signs on to The Wedding Game…and wins. Now she's married to a guy she can't stand, and if she wants her hands on the money, she has six months to make voters believe she loves him. Not easy to do since he's the most arrogant man in America.
It doesn't take long for Ellie and Cannon to realize they've made a mess of things…even less time for their feelings for one another to change. But is it too late for them? More importantly, can the worst decision they've ever made actually become one of the best?
Tags: Amy Matayo, Love Gone Wild, reality TV, The Wedding Game