Bryan and Ana's Favorite Latte Recipe
One of the things I loved most about writing The Solid Grounds Coffee Company was learning about the process of getting coffee from farm to cup. And just to make sure that I understood the whole thing, I spent hours poring over my barista handbook as well!
In honor of The Solid Grounds Coffee Company, I'm sharing one of Bryan and Ana's favorite latte recipe so you can make a coffee house quality drink at home.
The first choice for this drink is obviously espresso, but a moka pot makes an excellent and inexpensive substitute for the strong coffee this drink requires. You may also make it in a French press, but standard drip machine coffee will likely be too weak to stand up to the milk and flavorings.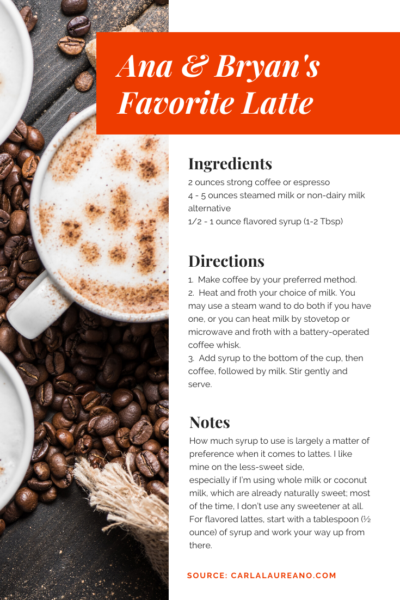 If you love this recipe and want more, I'm extending my preorder special through the end of the week: send me your receipt and get a copy of Coffee House Favorites for free! Click here for information, and don't delay. When it's gone, it's gone!
Tags: caffe latte, coffee recipe, The Solid Grounds Coffee Company