We're about one week into the book launch of The Solid Grounds Coffee Company and still going strong on all things books and coffee!
Last Friday, I introduced you to the fascinating Melissa Villanueva, cover model for Solid Grounds and owner of Brewpoint Coffee in Illinois! She has been so kind to share her personal recipe for making Brewpoint's Spicy Mocha at home, just in time to warm up your February. (Here in Colorado, the weather is making up for a mild season with ALL THE SNOW. I'm subsisting on all the hot drinks these days.)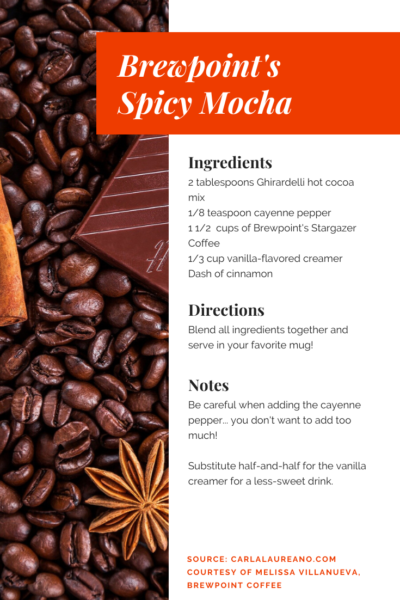 Thanks to Melissa for sharing this fabulous drink… don't forget to visit her post on my blog to learn more about her and how a Craigslist search for an espresso machine turned into owning three coffee shops and a roastery!
One of the things I loved most about writing The Solid Grounds Coffee Company was learning about the process of getting coffee from farm to cup. And just to make sure that I understood the whole thing, I spent hours poring over my barista handbook as well!
In honor of The Solid Grounds Coffee Company, I'm sharing one of Bryan and Ana's favorite latte recipe so you can make a coffee house quality drink at home.
The first choice for this drink is obviously espresso, but a moka pot makes an excellent and inexpensive substitute for the strong coffee this drink requires. You may also make it in a French press, but standard drip machine coffee will likely be too weak to stand up to the milk and flavorings.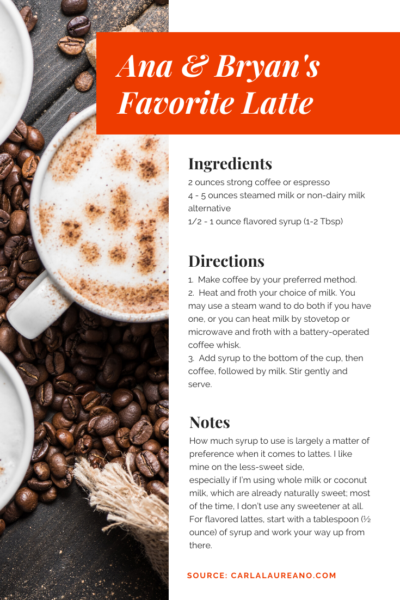 If you love this recipe and want more, I'm extending my preorder special through the end of the week: send me your receipt and get a copy of Coffee House Favorites for free! Click here for information, and don't delay. When it's gone, it's gone!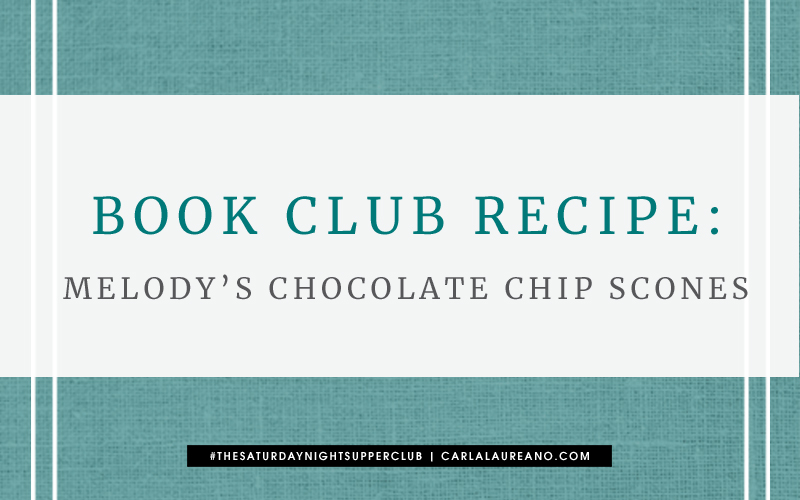 When writing The Saturday Night Supper Club and Brunch at Bittersweet Cafe, I was inspired to delve into my favorite recipes and create new variations with my characters in mind. This almond chocolate chip scone is sweet enough to serve for tea or dessert, but not so sweet it will give you a sugar crash immediately after breakfast. Might I say it would make an excellent book club treat, especially if you're discussing your favorite foodie romance? (Hint, hint…)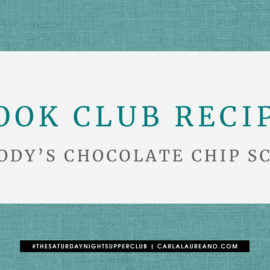 Print
Melody's Almond Chocolate-Chip Scones
This recipe straddles the line between sweet American coffee-shop style scones and their biscuit-like British counterparts. Feel free to omit the chocolate chips or substitute your favorite mix-ins and extracts. This recipe works equally well with lemon extract and blueberries.
Ingredients
3

cups

all-purpose flour

1/4

cup

granulated sugar

1

tablespoon

baking powder

1/4

teaspoon

salt

5

tablespoons

unsalted butter

cold, and cut into small pieces

1

cup

chocolate chips

1

cup

half-and-half

plus extra for brushing

1

teaspoon

almond extract

turbinado sugar

for sprinkling
Instructions
Preheat oven to 375°. Combine 2 cups of the flour, granulated sugar, baking powder, and salt in a large bowl. Cut in the butter with a pastry blender or your fingers. Alternatively, you can place all ingredients in the bowl of a food processor and pulse several times until the flour mixture resembles coarse meal. Stir in chocolate chips.

Add 1 cup of half-and-half and the almond extract; stir mixture until it forms a soft dough. Add in remaining flour a bit at a time until the dough holds together. It will be slightly sticky. Depending on ambient humidity and that of the ingredients, you may not use all the flour.

Turn dough out onto a lightly floured surface. Bring together and pat into a disc about one inch thick. Cut into 8 wedges with a lightly oiled knife. If you prefer mini-scones, divide dough in half and form two separate discs; cut each disc into 8 wedges for a total of 16.

Arrange wedges on a lightly greased baking sheet. Brush tops with the remaining half-and-half and sprinkle with turbinado sugar. Bake until golden brown and cooked through, about 20 minutes for full-sized scones and 15 minutes for mini scones. Remove to a wire rack and let cool at least 10 minutes before eating.