If some of you are scratching your head and asking "What's Oath of the Brotherhood?" you're likely not alone. A lot of people don't know that I started my writing career by writing epic fantasy under the name C.E. Laureano! I'm pleased to announce that, several years after the initial 2014 release, the Song of Seare series being repackaged and reissued by Enclave Publishing in a special, limited edition hardcover, under my full name, Carla Laureano.
Even though I've spent the last few years focusing on contemporary romance, fantasy always holds a special place in my heart and remains my go-to escape read…and I don't know about you, but after 2020, I can certainly use an escape!
Without further ado, I'm happy to reveal the brand new cover for book one, Oath of the Brotherhood, coming January 2021.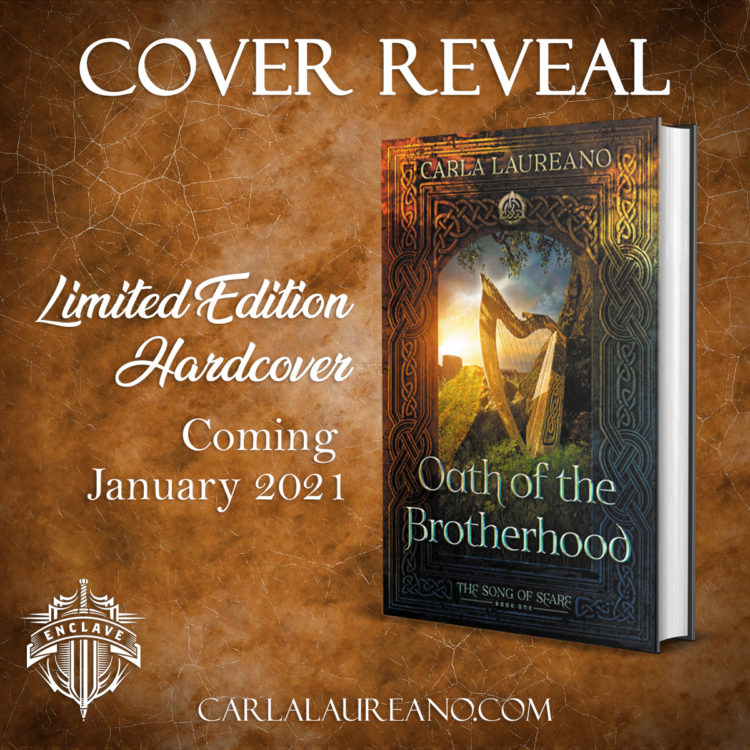 Isn't it lovely? I'm thrilled with the work that the cover designer did in giving it a new look while still capturing the magic and the Celtic flavor of the original. Here's what the story is about:
When evil threatens, who will find the faith to fight it?

In an island kingdom where the Old Ways hold fast and a man's worth lies entirely in his skill with the sword, Conor Mac Nir is a musician and a follower of a forbidden faith—problematic for any man, but disastrous for the son of the king.
When Conor is sent away to a neighboring kingdom to secure a treaty, he learns that his ability with the harp is a talent that traces back to the magical foundations of a once-united Seare. But his newfound home is soon placed in peril, entangling Conor in a plot that has been unfolding since long before his birth.
Only by leaving both kingdoms behind and committing himself to an ancient warrior brotherhood can Conor discover the part he's meant to play in Seare's future. But is he willing to sacrifice everything—including the woman he loves—to follow the path his God has laid before him?
Stay tuned for more info, updates, and giveaways as we get closer to the release early next year!
Tags: cover reveal, fantasy fiction, Oath of the Brotherhood, Song of Seare