Christian Fiction Scavenger Hunt Stop #17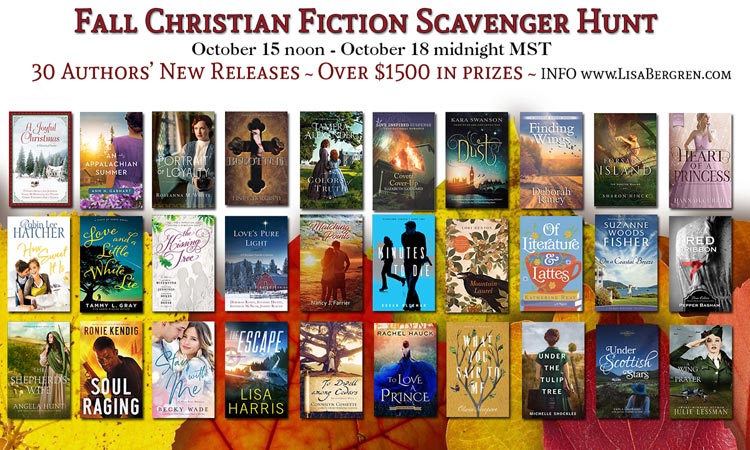 Welcome to the Christian Fiction Scavenger Hunt! If you've just discovered the hunt, be sure to start at Stop #1, and collect the clues through all the stops, in order, so you can enter to win one of our top 5 grand prizes!
The hunt BEGINS on 10/15 at noon MST with Stop #1 at LisaTawnBergren.com
Hunt through our loop using Chrome or Firefox as your browser (not Explorer)
There is NO RUSH to complete the hunt–you have all weekend (until Sunday 10/18 at midnight MST)! So take your time, reading the unique posts along the way; our hope is that you discover new authors/new books and learn new things about them.
Submit your entry for the grand prizes by collecting the CLUE on each author's scavenger hunt post and submitting your answer in the Rafflecopter form at the final stop, back on Lisa's site. Many authors are offering additional prizes along the way!
I'm Carla Laureano, and if you don't know me, I'm the author of a dozen books in the genres of contemporary romance and Celtic fantasy, with more to come! You can find out more about me, my work, and my many varied interests at this site, or on social media at Facebook, Instagram, or BookBub. Today, I'm talking about contemporary romance series, the MacDonald Family Trilogy, of which the third book in the series, Under Scottish Stars, has just released! Here's what it's about: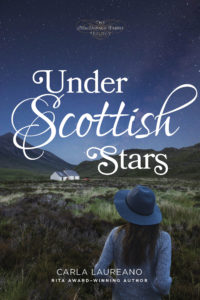 Recently widowed Serena MacDonald Stewart focuses on her children to the exclusion of her career, her artistic pursuits, and her sanity. When her brothers ask her to oversee the family guest house on the Isle of Skye, it might be her chance to dust off her long-ignored business skills and make a new start. But her hopes for a smooth transition are dashed when the current hotel manager, Malcolm Blake, turns out to be irritating, condescending . . . and incredibly attractive.
Malcolm Blake gave up everything—his home, his girlfriend, and his career—to return to Skye and raise his late sister's teenage daughter. With few job opportunities available on the island, he signs on as the manager of the MacDonald family hotel, which he's soon running successfully without interference from the owners. That is, until Serena shows up, challenging his authority as manager… and his conviction that there's nothing missing from his new life on Skye.
Before long, Serena and Malcolm have to admit the spark between them doesn't come from mere irritation, but as single parents, there is more than just their own hearts on the line. Will their commitments to family be the thing that draws them together… or the only thing that could keep them apart?
Anyone who knows me knows that I truly adore the enemies-to-more trope, because it's such a good excuse to have sparks between the main characters really fly! Which means, as you might guess, that Under Scottish Stars is a pretty sexy book. But there's another good reason for that, and I bet it isn't what you think…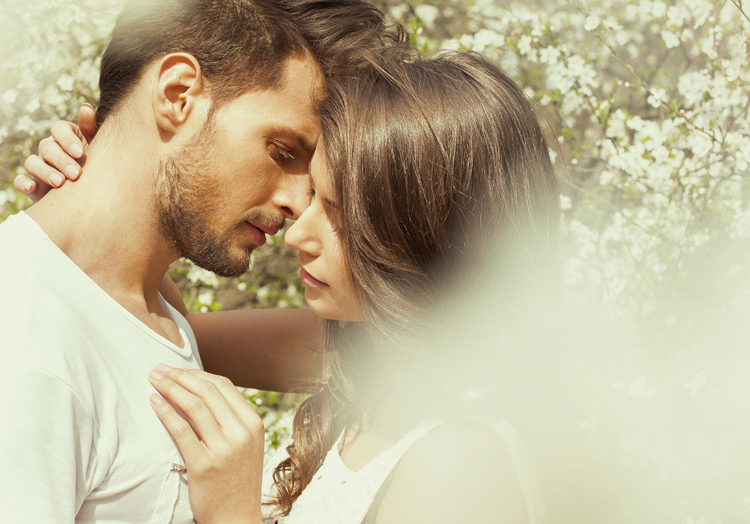 Under Scottish Stars Is a Sexy Book . . . and That's a Good Thing
When you think of Christian fiction, you think of stories that are sweet, heartwarming, sometimes even life-changing. The one word that doesn't usually come to mind, at least not immediately, is sexy.
When I began writing the MacDonald Family series over seven years ago, I wanted to write books that captured the overpowering sensation of attraction at the beginning of a relationship and the wonderful, confusing emotions those days encompassed. And that had to include the idea of S-E-X.
Shocking, I know, for a Christian writer to purposely set out to write about those topics, but the more I heard about books being passed to teen girls and unmarried women because they were considered "safe," the more concerned I became about the message we were sending. As a girl growing up in a Christian household and obeying Biblical laws on relationships, I was surprised by how… not chaste… my first adult relationships felt. Even if we weren't doing anything that was actually wrong, those dating experiences in no way matched the sweet and often tepid relationships I read about in romance novels.
So when I started writing Christian romance myself, I wanted to acknowledge sexual temptation without portraying it in a way that was ugly or shameful. After all, God created the very idea of sex, and it's neither realistic nor helpful to portray sexuality as something that can be flicked on and off like a light switch. At best, it leaves women unprepared for marital relationships. At worst, it injects shame into natural desires, which then follow them long after the wedding is over. Either way, we're doing young Christians no favor by pretending sexual feelings don't exist until they say I do.
The MacDonald Family series, then, is a purposefully sexy series, because it explores intense romantic relationships in a way that acknowledges reality while still maintaining a Godly worldview. Under Scottish Stars takes a particularly frank look at the subject, because Serena has been recently widowed with two children. Giving her an inexperienced, virginal outlook on life would not only be inauthentic, but in my opinion, harmful. So many times women feel that because they're no longer a virgin, their sexual choices don't matter, even though the emotional and psychological consequences are just as real. So it was important to me to have Serena acknowledge her intense physical attraction to Malcolm while maintaining boundaries between them. Feelings are neutral—it's how we choose to act on them that makes the difference.
I encourage you to try out the series yourself if you're looking for a romantic, realistic read with a swoon-worthy hero and a Christian message about relationships… and don't forget to enter the giveaway below to win a copy of your very own! Thanks for visiting and enjoy the rest of your scavenger hunt!
HERE'S THE STOP #17 BASICS:
But wait! Before you go, I'm offering a special giveaway to this year's Scavenger Hunters. Simply enter in the widget below, and three winners will receive their choice of any one of my MacDonald Family or Supper Club books! All you have to do is sign up for my newsletter (current subscribers will be entered if you click "done"). Additional entries for following me on Facebook, Instagram, and BookBub!

Christian Fiction Scavenger Hunt Giveaway – Fall 2020

Tags: Christian Fiction Scavenger Hunt, MacDonald Family series, Under Scottish Stars