We're about one week into the book launch of The Solid Grounds Coffee Company and still going strong on all things books and coffee!
Last Friday, I introduced you to the fascinating Melissa Villanueva, cover model for Solid Grounds and owner of Brewpoint Coffee in Illinois! She has been so kind to share her personal recipe for making Brewpoint's Spicy Mocha at home, just in time to warm up your February. (Here in Colorado, the weather is making up for a mild season with ALL THE SNOW. I'm subsisting on all the hot drinks these days.)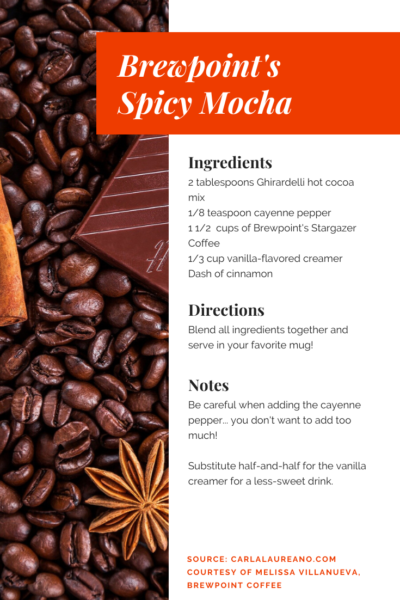 Thanks to Melissa for sharing this fabulous drink… don't forget to visit her post on my blog to learn more about her and how a Craigslist search for an espresso machine turned into owning three coffee shops and a roastery!
Tags: Brewpoint Coffee, Melissa Villanueva, spicy mocha recipe, The Solid Grounds Coffee Company