Carla's Friday Five: January 24, 2020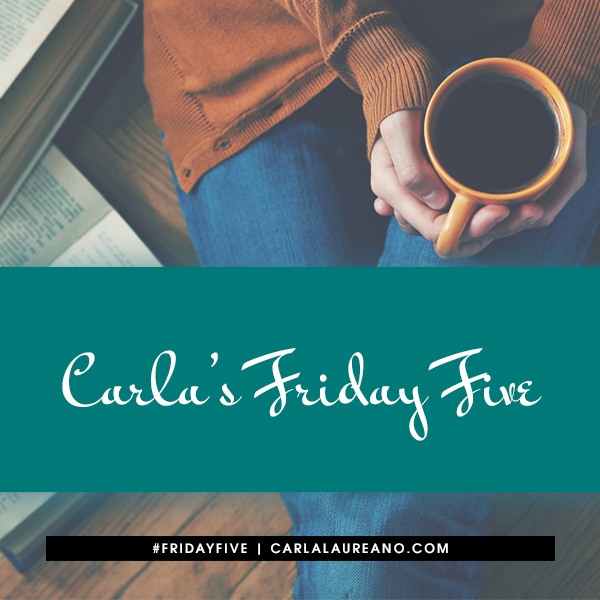 It's time for another "episode" of Carla's Friday Five, where I share with you the things I'm reading, thinking, and drinking! It's been a long, moderately chilly week here, so I've been spending a lot of time curled up under a blanket sitting at my desk with the heater blowing on me full blast!
Without further ado, here are my five favorites from this week.
I'm notorious for pushing myself until I can't go anymore, so when I'm more reasonable about my expectations, I don't understand why I'm still so tired and strung out! Turns out there's more than just one kind of rest, and we need all of them to be healthy, happy, productive human beings. Far more practical than "woo woo", this book talks about the different kinds of rests, the different kinds of gifts that can recharge us, and provides a quiz at the end to find out where you're deficient. Turns out that I'm not crazy to think the things that are supposed to be relaxing just feel like more work at the end of the day. If you ever find yourself struggling to get through your days and nights, this book might be a lifesaver.
I love flamenco guitar, and in particular, I've loved Ottmar Liebert ever since I saw him play live in Southern California over twenty years ago. He's come out with many albums since then, but his original, Nouveau Flamenco will always be my favorite. At once calming and soul-stirring, it can instantly turn around a bad day. "2 The Night" is my favorite song on the album (and incidentally, the one my son auditioned for orchestra with) but "Lonely Hours" is a close second.
This might be an "oh duh" for everyone—of course someone who writes food fiction watches The Great British Baking Show! However, I watch less than an hour of TV a night, so despite having devoured the first two seasons when they were available in America, I'm way way behind. With all the stress of recent weeks, I found that the quiet tone and good-natured competition to be far more soothing than the standard Food Network offering and I quickly plowed through Series 3. I'm not sure how I'm going to fare when I get to Series 7 without Mary Berry, Sue Perkins, and Mel Giedroyc, but as long as I've got Paul Hollywood, I may be able to muddle through.
DRINK – Indian Haldi Dood (Turmeric Milk)
You know how I mentioned that chilly week? I've been walking out the door to pick up my kids (a process that takes me about 2 hours door to door and involves two schools with two different release times, ugh!) with a hot drink in my travel mug. Couple that with my older son being determined to share his cold, and it's time to break out the Indian cure-all: turmeric milk. There are many ways to make it… my personal dairy-free recipe is available in Coffee House Favorites, the free e-book I'm giving away with every preorder of The Solid Grounds Coffee Company. Click here for more details.
Three out of four members of my family eat paleo, so I'm always looking for quick and easy breakfast recipes. Of all the paleo muffin recipes I've tried, this one (linked above) is by far the best—not too greasy, with a texture that approximates a wheat flour bakery muffin, and a great pumpkin spice flavor! Best yet, there's none of the egg separating, two individual bowls nonsense that goes on with a lot of paleo/gluten-free recipes. It takes me less than 10 minutes to mix, 25 minutes to bake, and then I've got pumpkin muffins for the rest of the week. (Also, it makes me feel like maybe the holidays aren't completely over.)
I hope you enjoyed my discoveries from this week! Just as a reminder, the launch of The Solid Grounds Coffee Company is only about ten days away, so there's still time to get your copy and have it delivered on release day. Plus, if you preorder, you get a free coffee-house drinks cookbook! Win-win!
Tags: Nouveau Flamenco, Ottmar Liebert, Sacred Rest, Saundra Dalton-Smith, The Great British Baking Show