Carla's Friday Five: January 17, 2020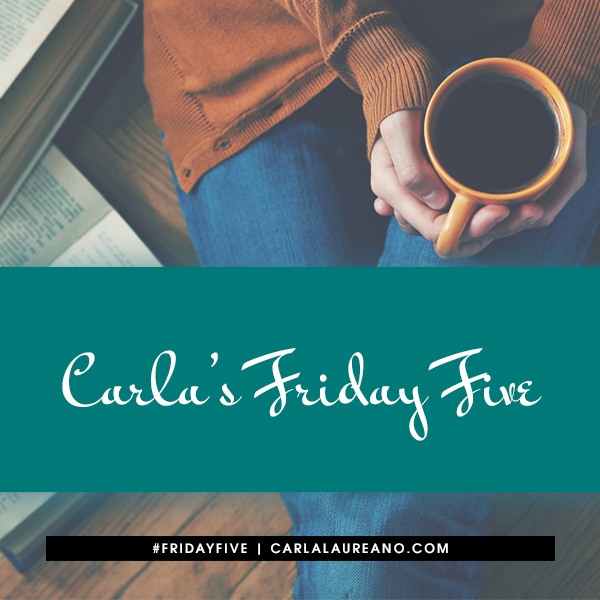 Hey, friends! I'm starting something new this month on the Fridays that I don't have a blog guest, and I'm calling it Carla's Friday Five. I get a lot of people asking me for recommendations on everything from books to recipes, so each week I'm going to share the top five things I've come across, done, or purchased.
Lest you think it's my own brilliant idea, it's a total rip off of Tim Ferriss's Friday email where he does the same thing… but on the upside, you don't have to subscribe to anything to get mine. 😊
So here we go!
Unless you've been living under a rock, you've heard of this book, but you may not have picked it up. Reviews seem to vary wildly between "best book ever written" and "most unlikable characters ever." Personally, I thought it was delightful. Eleanor is a quirky POV character, to say the least, but as the book continues, you begin to realize exactly why she is the way she is and root for her to break out of her lonely, ordered life. There is some strong language at the end on the part of another character, but overall the material is clean. (Even if there is a rather hilarious episode involving a bikini wax…)
Speaking of Tim Ferriss above, I'm a big fan of his podcast, which features interviews with "world class performers" on their secrets to success. Even if you're not interested in real estate, anyone with an entrepreneurial bent will enjoy this conversation with Gary Keller, CEO of Keller Williams, the world's largest real estate firm. His measured path to success is a fascinating one, but I especially enjoyed hearing how he sets his priorities with a single question to himself, regardless of whether it's a personal or professional setting… I'm going to be asking this one myself in every situation from now on.
I'm not a super big jazz fan, but my massage therapist was playing this in the room last time I had a treatment and I asked for the link. This is now my go-to list when I want to write to something both calm and energizing, without words to distract me. Weirdly enough, jazz always makes me think of Christmas, and who doesn't need more Christmas in their life?
I am absolutely obsessed with this tea. I don't do caffeine, and all the herbal chai teas I've tried have been weak or too sweet. Not this one. It's robust, spicy, and can stand up to a generous splash of almond-coconut creamer (with a slightly less generous dollop of raw honey). I've gone through an 18-count box in two weeks… it's my new go-to when I need a little pick-me-up but don't want to spend the calories on a snack.
I DVR'd this season and started late, so I'm just now caught up with the season, and I'm loving this quirky but surprisingly deep show about a female ex-Army intelligence officer turned Portland private investigator. She suffers from PTSD that she's not addressing…so if you related to Grace in London Tides, you're probably going to enjoy the tough-but-damaged Dex, played by Avengers favorite Cobie Smulders. For me, the show's highlight is the warm, sweet friendship between ex-car thief and bar owner, Gray, and Dex's younger brother, Ansel, who has Down Syndrome. The cases are more weird than intense, as befits the Portland setting, though do be aware of the sexual situations which form some of the show's conflict, especially if you're a sensitive viewer or watch with teens or kids. Overall, though, Stumptown features smart, witty writing, well-rounded characters, and a surprising amount of heart, and it keeps getting better with each episode.
Tags: Cobie Smulders, Eleanor Oliphant Is Completely Fine, Gail Honeyman, Gary Keller, Stumptown