A Writer's Life: Heidi Chiavaroli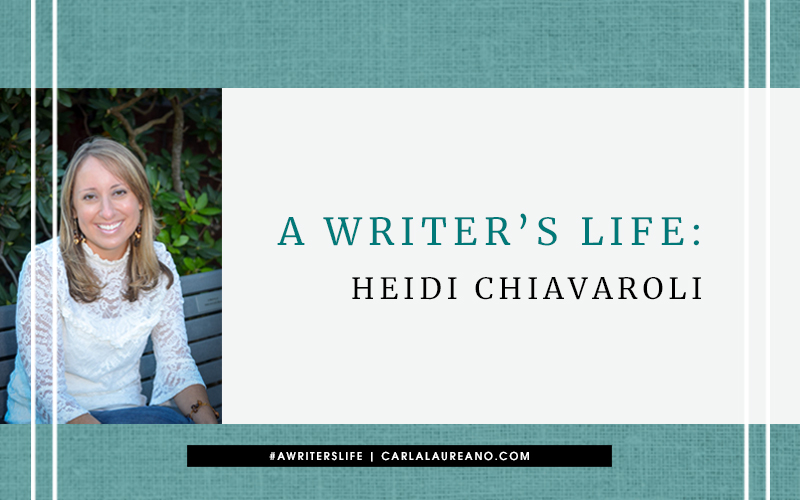 February's A Writer's Life guest has burst onto the Christian fiction scene with a bang. Her first novel, Freedom's Ring, won the coveted Carol Award, as well as several other major accolades, and was named as one of Booklist's Top Ten Debut Novels! Now she's here to celebrate the release of her fourth book, The Tea Chest, to talk about what she's learned about making writing a healthy, lifelong proposition.
Oddly enough, Heidi's experience very much mirrors my own, though we really haven't discussed it up until now. I can vouch for her conclusions because I've come to the same ones! Enjoy her perspective–I have a feeling that there's something all us writers can take from what she's learned.
Writing Healthy by Heidi Chiavaroli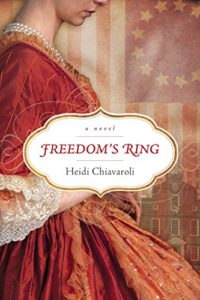 I never expected that chasing my dream of writing and publishing books would take a toll on my health. Who knew that having a major lifelong dream come true would be anything but positive?
But last winter, while on deadline for my fifth book, I ran into some health and stress-related problems I could no longer ignore. One day, after a particularly long writing session, I got out of my chair to excruciating pain in my back. I couldn't walk straight for days—I had thrown out my back…writing!
This was the first of a variety of problems—some much scarier than back pain—that cropped up over several months time. After seeing numerous traditional doctors who didn't have answers, I sought out a functional doctor. Together, we took a good look at how I could fulfill my dream of writing—but not at the expense of my health.
Here are a few tips I've learned that I hope will help you!
Change Up Your Space
It may have been naïve, but I rarely considered my writing posture and how it affected so much of my body. After paying attention, I realized I was slouched at my computer, shoulders tight with the tension that came with immersing myself in my story world.
I now write standing up for most of the day. In the beginning, my creative subconscious was VERY against this. It took several weeks for my brain to acclimate, but now I don't even notice. I also took a break from the computer over the holidays and went back to old-fashioned paper and pen. It brought me back to my middle-school journaling days and I loved it!
Stretch and Breathe
If you're like me, you might flinch at this advice. For so long, I ignored it. This took time. Time I could be writing and getting stuff done! I don't do "still" all that well. But taking just twenty minutes in the morning to do some light yoga (concentrating on the neck area) and some deep breathing was a complete game-changer for me, physically and mentally.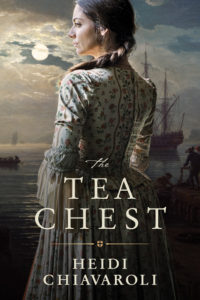 Change Up Your Routine
I used to go for a run right after I put my kids on the bus, then write for the day after a hot shower. Now, I write early in the day and break it up with a run or a hike in the woods before resuming writing. Often, if I'm feeling stuck on a part of my story, a walk will remedy the block. I didn't realize how much my body needed this mid-day break until I started putting it into practice.
Take Time To Enjoy
When I first received a contract with my dream publisher, I threw (read hurled at 90mph) myself into writing my next novel—and marketing the first one. I stopped sitting down at night for a movie with my family and constantly worked—even on weekends. But marketing is a bottomless pit. There's always more we could be doing as writers. In no time, I'd burnt myself out trying to do it all.
Now, I keep office hours. I set specific, realistic goals for each day and complete them (most of the time). I've revisited old hobbies, like sewing and journaling, and started some new ones, like joining the worship team at my church. I spend time with my family at night, guilt free, and honestly, I don't think my books are suffering because I didn't create that extra meme or plan one more Instagram post.
The Obvious
Hey, I can eat chocolate with the best of them, but I know from experience how too much of a good thing leaves me moody and unproductive. I made some drastic changes to what I chose to put into my body, and what a difference it has made on my overall attitude, creativity, and general well-being. Eating healthy and exercising really are important for our bodies…and our stories.
Now go grab a carrot stick or two, save the chocolate for a reward for getting your goals done today, and write something amazing!
Heidi Chiavaroli began writing thirteen years ago, just after Jesus had grabbed hold of her heart. She used her two small boys' nap times to pursue what she thought at the time was a foolish dream. Despite a long road to publication, she hasn't stopped writing since!

Heidi writes women's fiction, combining her love of history and literature to write split time stories. Her debut novel, Freedom's Ring, was a Carol Award winner and a Christy Award finalist, a Romantic Times Top Pick and a Booklist Top Ten Romance Debut. Heidi loves exploring places that whisper of historical secrets, especially with her family. She loves running, hiking, baking, and dates with her high-school sweetheart and husband of sixteen years. Heidi makes her home in Massachusetts with her husband and two sons.

Heidi is represented by the Natasha Kern Literary Agency.
Tags: Freedom's Ring, health for writers, Heidi Chiavaroli, The Tea Chest, Writing Healthy