Words for Women: Look Into His Eyes, by Lucille Zimmerman
I debated whether or not I should tell my counselor this dark, awful story about a piece of my life I had blocked from my memory.
Over the months, I had felt more and more safety opening up and telling parts of my story that included painful events and life choices.
But lately I felt like I was playing a game of, "Whack-a-mole." Every time I told one story, two or three new memories would pop up.
My counselor looked at me, dimmed the lights just a bit, and encouraged me to tell.
After I said the words, I tipped my head down cried myself breathless. Then I tilted my head back up to look at him. I thought he would return my look with disdain. Instead, I saw tears in his eyes and utter acceptance. Then he said, "Lucille, you believe I think less of you. I love your more for having the courage to tell that."
He understood that the light was the antidote for my shame. His look was my healing.
There's a story just like that in the Bible. On the night of Christ's crucifixion, Peter denied Christ three times. I've often thought that it was the cock's crow, and and the memory of Jesus telling Peter he would do that, that made Peter weep bitterly.
But take a closer look at the text; you'll see it was something else that made Peter weep.
In Luke 22:61 it says, "Jesus turns and gazes at him." The Greek word emblepo means, "to gaze knowingly." Jesus knew Peter couldn't live a perfect life. He knew Peter would crumble in fear and deny knowing him.
It's impossible for me to think that Jesus gave Peter an, "I told you so" look of anger. Instead, Jesus gazed lovingly, knowingly, into Peter's eyes. Peter felt the love and wept.
If there is something that is causing you pain or shame, look into the eyes of the one who loves you most.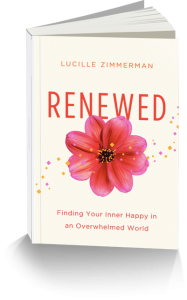 About Renewed
Women increasingly find themselves pulled in many directions, striving to balance the needs of others with the need to nurture themselves. This pull is often exhausting and, sometimes, can lead to resentment or burn-out. So how do we manage our work and family and faith and ministry lives if we aren't able to take care of ourselves as we also take care of others?
Renewed helps women understand the need to put themselves on "the list." Through practical ideas and relatable anecdotes, readers can better understand their strengths and their passions—and address some of the underlying struggles or hurts that make them want to keep busy or minister to others to the detriment of themselves. Renewed can help nurture those areas of women's lives to use them better for work, family, and service. It gives readers permission to examine where they spend their energy and time, and learn to set limits and listen to "that inner voice."
About Lucille
[author] [author_image timthumb='on']https://www.carlalaureano.com/wp-content/uploads/2013/09/LZ_Headshot.jpg[/author_image] [author_info]Lucille Zimmerman is a Licensed Professional Counselor with a private practice in Littleton, CO and an affiliate faculty professor at Colorado Christian University.
She is also the author of Renewed: Finding Your Inner Happy in an Overwhelmed World. Through practical ideas and relatable anecdotes, readers can better understand their strengths and their passions—and address some of the underlying struggles or hurts that make them want to keep busy or minister to others to the detriment of themselves. Renewed can help nurture those areas of women's lives to use them better for work, family, and service. It gives readers permission to examine where they spend their energy and time, and learn to set limits and listen to "that inner voice."
Connect with her on Facebook, Twitter, or at her website, LucilleZimmerman.com. [/author_info] [/author]
Tags: acceptance, Lucille Zimmerman, Renewed, shame, unconditional love