Fictional Friday: Interview with Debut Author Lori Benton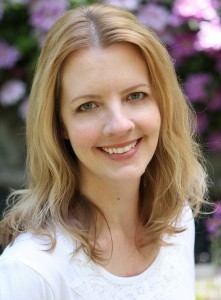 I am thrilled to introduce you today to a friend and a new addition to my favorite author list, Lori Benton. Lori's debut historical novel, Burning Sky, was only released a month ago but has already received great critical and reader acclaim. For good reason: Lori's writing is both assured and distinctive, deftly balancing readability with a sense of historical authenticity….not to mention a cast of unforgettable characters.
Carla: Your debut novel, Burning Sky, takes place after the Revolutionary War and includes a depiction of the Iroquois culture in New York. This happens to be one of my favorite time periods/settings, but it's not terribly well known. How did you come up with the idea for the story?
Lori: Before I began writing Burning Sky, I'd been researching late 18th century American history for about five years, working on a novel set in North Carolina. Because I knew next to nothing about the time period to begin with, I cast a broad research net, reading a lot of general information on all the colonies/states during the second half of the 18th century. My attention was inevitably drawn to the Mohawk Valley of New York. The conflict in that colony during the Revolutionary War was intense, with particular animosity raging between patriot and loyalist Americans. Along with the conflict European Americans were experiencing, the Haudenosaunee (Six Nations of the Iroquois), who had lived on that land for generations, ended up drawn into the conflict as well—not all on the same side. For a time, the Iroquois Confederacy ceased to exist as brother fought against brother.
I saw this setting—and still see it—as fertile ground for the type of stories I love to tell, stories of men and women caught between worlds (races, cultures, upbringings, beliefs)—often with loved ones facing them across the divide. It's a place best describe as the Middle Ground. By the time I finished that earlier novel, I knew I wanted to write a story set on the New York frontier. After I decided on the setting and time period, I simply had to wait until a character showed up. It wasn't long before Willa Obenchain came striding over the mountains, heading home.
Carla: I think the "world in transition" you describe is what I love about Irish and Scottish history as well. You and I have discussed our shared fondness for Celtic cultures. Do you incorporate a little of that into your early American work? Do you have any plans to write stories set "across the pond?"
Lori: I do incorporate that Celtic culture in my stories, as much as I can. It's not a stretch to do so, since so many of the men and women on the 18th century frontier were recent transplants from Ireland, Scotland, and Wales, or the generation born to those transplants (alongside Germans, Dutch, French, English, and other European nationalities). I love this melting pot aspect of early American history, but I confess that those of Celtic culture hold a special place in my heart.
As for plans to write stories set across the pond… as a matter of fact, I do. At least one that begins there.
Carla: You have so many different characters with different backgrounds. If you could live the life of any one of your characters for a day, who would you choose and why?
Lori: Living the life any one of my characters for a day would probably necessitate a month of recovery. They had such physically demanding lives compared to mine. I'll pick Margaret Kershaw/Pine Bird. I would like to experience the world from her point of view for a day, because as much as a writer uses the imagination and empathy God gave her to put herself in the heart and mind of a person who faces struggles she herself will never know, "…what man knows the things of a man except the spirit of the man which is in him?" 1 Cor. 2:11
Carla: Alright, so onto the nitty gritty writer stuff. You mentioned your research process for Burning Sky. What's your writing process like? Plotter or pantser or something in between? Multi-drafter or one-and-done?
Lori: Plotter. I need to have a clear idea of where a story is going before I can begin it. Often this is because the fictional aspects of the story and the characters hinge on actual historical events. So I need to already have done a good chunk of my research during the story-weaving process. I need to know that the story arc I have planned for the characters works inside the framework of the historical record. But for all that plotting, on any given writing day surprises still happen. I love it when they do.
I write multiple drafts of every scene. Fiddling is the best way to describe how I work. I'll write a few sentences, stop and play with them for a bit, write a few more, play with all that, rearrange the phrases, the sentence length, the wording. Add some. Delete some. Write a bit more. By the time I've completed a 1500 word scene I'll likely have been over it five or six times already, it's the end of the work day, and I'm exhausted. But I don't stop there. Most of the scenes that exist in Burning Sky have been edited several dozen times. Some more.
Carla: I'm relieved to hear I'm not the only one who tinkers endlessly with sentences and scenes, though I like to do it with full drafts… and my complement of colored gel pens. I think I should dedicate my next book to Pentel! What three things are most essential to your writing process?
Lori: My research library. Solitude. Prayer. I often get the best story insights in those moments on the heels of my morning devotions, when I'm still sitting in my recliner and the house is dark and my mind drifts… and the answer to a story problem I probably just prayed about drops into my head like a gift.
Carla: I love those moments. Sometimes I'll pray over a story problem before bed and wake up with the solution, then rush to scribble it down before I forget it. Which brings me to the next important question: coffee, tea, or hot chocolate?
Lori: Hot tea with milk first thing. Then coffee, but no more than two cups a day. Okay, maybe two and a half if I need the extra kick.
Carla: I think I pour about six cups of coffee a day, but I maybe only finish one and a half!  What can we look forward to next from you, Lori?
Lori: Thanks for asking! I'm getting excited about it. My next book releases April 15, 2014. The Pursuit of Tamsen Littlejohn is set in western North Carolina, 1787, during a time of upheaval in that region following the Revolutionary War:
To escape a threatening stepfather and an unwanted marriage, Tamsen Littlejohn enlists the aid of Jesse Bird, a frontiersman she barely knows, to spirit her away from Morganton, North Carolina, west beyond the Blue Ridge Mountains. While the two men intent on seeing her recovered prove relentless in their hunt, more trouble awaits in the form of a divided frontier community. Across the mountains the State of Franklin has been declared, yet many settlers remain loyal to North Carolina. Chaos reigns, thwarting Tamsen and Jesse's hastily cobbled plan to keep her safe.
With her pursuers ever nearing, the region in turmoil, neighbors grown suspicious of her presence, Tamsen's safety is soon put in greater jeopardy. Gaining the freedom she longs for will mean running yet again, to the most unlikely refuge imaginable—the Cherokees, a people balanced on the edge of war. But the biggest complication may prove to be Tamsen's growing bond with her knight in greasy buckskins, Jesse Bird. Falling in love was never part of the plan.
Carla: That sounds fantastic! Even better than your first if such a thing is possible.
And because Lori is such a fun and generous writer, she has agreed to give away TWO copies of Burning Sky! We've got a number of ways for you to enter to win in the Rafflecopter widget below, so don't forget to take all your chances to win your own copy of this great novel. ***Contest is now closed***
Also, don't forget to take a look at the sample chapters of Burning Sky linked below!
About Lori
Lori Benton was born and raised east of the Appalachian Mountains, surrounded by early American and family history going back to the 1600s. Her novels transport readers to the 18th century, where she brings to life the Colonial and early Federal periods of American history, creating a melting pot of characters drawn from both sides of a turbulent and shifting frontier, brought together in the bonds of God's transforming grace.
When she isn't writing, reading, or researching 18th century history, Lori enjoys exploring the mountains with her husband – often scouring the brush for huckleberries, which overflow the freezer and find their way into her signature huckleberry lemon pound cake.
Connect with Lori at her website or Facebook.
About Burning Sky
Abducted by Mohawk Indians at fourteen and renamed Burning Sky, Willa Obenchain is driven to return to her family's New York frontier homestead after many years building a life with the People. At the boundary of her father's property, Willa discovers a wounded Scotsman lying in her path. Feeling obliged to nurse his injuries, the two quickly find much has changed during her twelve-year absence—her childhood home is in disrepair, her missing parents are rumored to be Tories, and the young Richard Waring she once admired is now grown into a man twisted by the horrors of war and claiming ownership of the Obenchain land.
When her Mohawk brother arrives and questions her place in the white world, the cultural divide blurs Willa's vision. Can she follow Tames-His-Horse back to the People now that she is no longer Burning Sky? And what about Neil MacGregor, the kind and loyal botanist who does not fit into in her plan for a solitary life, yet is now helping her revive her farm? In the aftermath of the Revolutionary War, strong feelings against "savages" abound in the nearby village of Shiloh, leaving Willa's safety unsure.
Willa is a woman caught between two worlds. As tensions rise, challenging her shielded heart, the woman called Burning Sky must find a new courage–the courage to again risk embracing the blessings the Almighty wants to bestow. Is she brave enough to love again?
Read the first two chapters here. You can also buy your own copy at your favorite e-retailer, such as Amazon or CBD. And don't forget to enter the drawing below! Winners will be drawn on September 17th and announced here.
Tags: Burning Sky, Early American, historical fiction, Iroquois nation, Lori Benton, Revolutionary War, writing life