A Writer's Life: Why Plotting Doesn't Work for Me by Amber Lynn Perry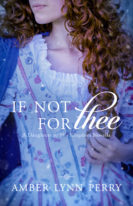 I'm pleased to welcome my friend and fellow writer, historical romance author Amber Lynn Perry, to the blog today! Amber writes fabulous colonials with just-as-fabulous covers. If you follow her on social media, you'll know that she acts as her own cover model and the costuming is from her own historical closet! Clearly this is a writer who lives and breathes her genre. Today she's put together a video taking sides in the plotting vs. pantsing debate.
---
Carla, thank you so very much for having me and for allowing me to talk about writing. I don't often do that these days (I spend most of my time vlogging about the colonial era) so it's a real treat to get to discuss my other great passion in life. In this video I'm talking about the difference between plotting and "pantsing" and why plotting just doesn't seem to work for me.
So, I sincerely want to know—even if you don't write—do you think you are a plotter kind of person, or a "pantster"? Let me know! I love to learn about everyone's different experience and what works for them, and what doesn't.
Thank you again, and have a very great 2018!!
Amber Lynn Perry is a historical romance novelist, focusing on her favorite time in American history, the Revolutionary era. She received a Bachelor's degree from Portland State University and currently lives in Washington state with her husband and two daughters. She loves to hear from readers and you can contact her through her website, www.amberlynnperry.com or through her Facebook page.

Tags: pantser, plotter, word count, writing style