New series alert and cover reveal!
It's been some time in coming, but I'm thrilled to announce the release of my new Haven Ridge clean contemporary romance series… beginning with The Broken Hearts Bakery in April 2023!
Set in a small southern Colorado mountain town, the Haven Ridge series is heartfelt and romantic with just a touch of magical realism. Here's what the first book is all about:
---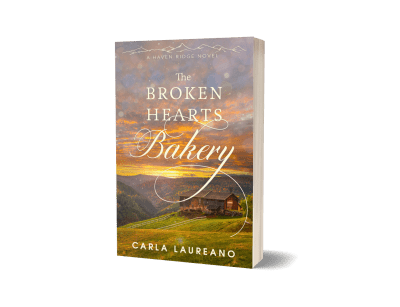 Fourteen years ago, the town of Haven Ridge failed its most important mandate—to be a sanctuary for heartbroken citizens in need. Now it's getting a second chance to set things right …
When Gemma left her hometown of Haven Ridge, Colorado, years ago in a cloud of controversy, she swore she would never return. And she's kept that promise, instead building her reputation as one of LA's preeminent family law attorneys. But when her lifelong best friend begs her to come stay with her teen stepdaughter, Taylor, while she's on a business trip, Gemma doesn't have the heart to refuse. She'll simply keep a low profile, do her honorary aunt duties, and be gone before anyone knows the difference.
But Haven Ridge seems to have a mind of its own, dragging Gemma unwillingly back into the community she's tried so hard to leave behind, and she soon finds herself caught up with new friends and old rivalries. When Taylor is the object of an ugly bit of teen bullying that brings back far too many unwelcome memories, Gemma does the only thing she knows how to do: ply her honorary niece with baked goods and words of affirmation. Soon, her temporary digs are ground zero for teenage girls seeking sugar and consolation for shockingly adult problems—which the girls soon dub The Broken Hearts Bakery.
Complicating matters is an unexpected reunion with Gemma's high school sweetheart, Stephen, who is determined to change her mind about him, the town, and the nature of love itself. Because as it turns out, her niece isn't the only one nursing a broken heart…
---
I can't wait to share the romance and magic of Haven Ridge with all of you!
Please visit the book page for links to the preorder on retailers. Paperbacks are already available for preorder through my website (you get an autographed copy!), and additional paperback preorder options will be added in February 2023. And don't forget to sign up for my newsletter to get preorder alerts, release day news, and (shhh!) an opportunity to get a Haven Springs prequel novella for free (coming Feb 2023)!
Tags: contemporary romance, cover reveal, new book alert, women's fiction