The Broken Hearts Bakery is Now Available!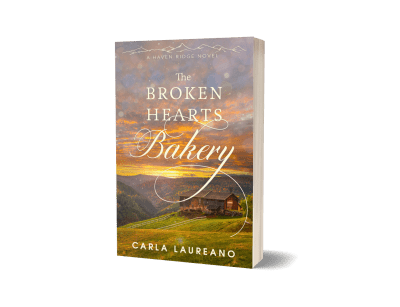 It's a special day today…The Broken Hearts Bakery is now available to the world! This is especially fun for me because it's my first independently published full-length release and also the first full book in my new Haven Ridge series!
All this week, I'll be posting fun behind the scenes tidbits, chances to win your very own copy plus some great prizes, and I also will be doing a cover reveal for the next book in the series! So keep your eyes open here and on social media for all the festivities.
And in the meantime, here's a little peek at what the book's about…
---
Sometimes the town that broke your heart is the only place that can heal you.
When Gemma left her hometown of Haven Ridge, Colorado, she swore she'd never return. And she's kept that promise, leaving old shadows behind and building her reputation as one of LA's preeminent family law attorneys. But when her lifelong best friend begs Gemma to come stay with he teen stepdaughter while she's on a business trip, she doesn't have the heart to refuse. She'll simply keep a low profile, do her honorary aunt duties for Taylor, and be gone before anyone notices.
But Haven Ridge seems to have a mind of its own, and before she knows it, Gemma finds herself caught up with new friends and old rivalries. When Taylor is targeted by teen bullies, Gemma does the only thing she knows how to do: ply her honorary niece with baked goods and words of affirmation. Soon her temporary lodgings are ground zero for teenage girls seeking sugar and consolation for shockingly adult problems—which the girls soon dub the Broken Hearts Bakery.
Complicating matters is an unexpected reunion with Gemma's high school sweetheart, Stephen, who is determined to change her mind about him, the town, and the nature of love itself. Because as it turns out, her niece isn't the only one nursing a broken heart.
---
This story incorporates some of my favorite book details: a second-chance romance, strong female friendships, quirky townsfolk, and wry humor. I hope you love reading Gemma and Stephen's story as much as I loved writing it!
You can buy your copy today by checking out this list of retailers or there are a limited number of signed copies available at my shop. (Or, ask your local library to order a copy!)
Tags: haven ridge, new release, romance, the broken hearts bakery