One Week Until Oath of the Brotherhood!
Only one week left until Oath the Brotherhood is back out into the world, this time in a beautiful hardcover edition with extra materials and a well-priced e-book! Start 2021 with a stirring faith-based adventure full of magic, romance, and sacrifice — preorder your copy today!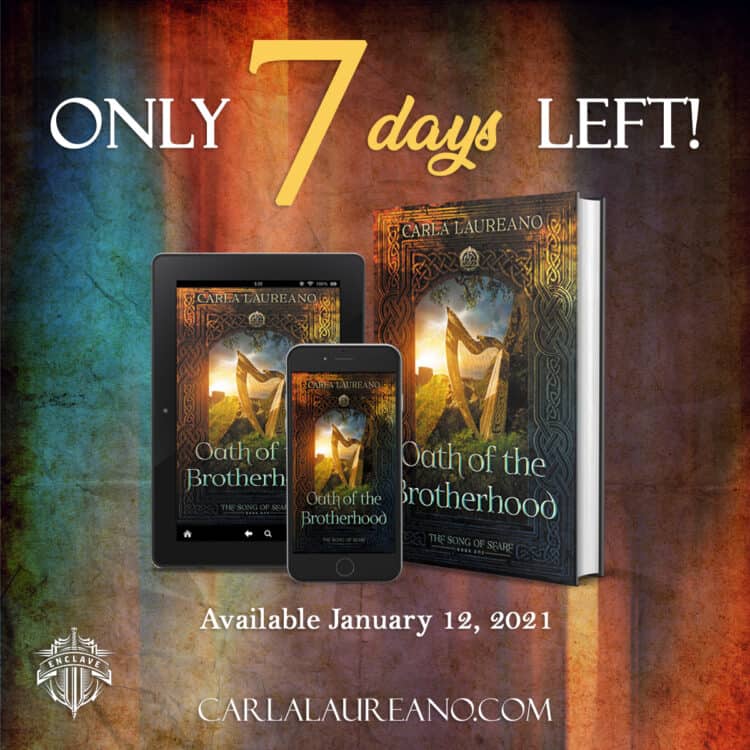 When evil threatens, who will find the faith to fight it?

In an island kingdom where the Old Ways hold fast and a man's worth lies entirely in his skill with the sword, Conor Mac Nir is a musician and a follower of a forbidden faith—problematic for any man, but disastrous for the son of the king.
When Conor is sent away to a neighboring kingdom to secure a treaty, he learns that his ability with the harp is a talent that traces back to the magical foundations of a once-united Seare. But his newfound home is soon placed in peril, entangling Conor in a plot that has been unfolding since long before his birth.
Only by leaving both kingdoms behind and committing himself to an ancient warrior brotherhood can Conor discover the part he's meant to play in Seare's future. But is he willing to sacrifice everything—including the woman he loves—to follow the path his God has laid before him?
Tags: new release, Oath of the Brotherhood, Song of Seare