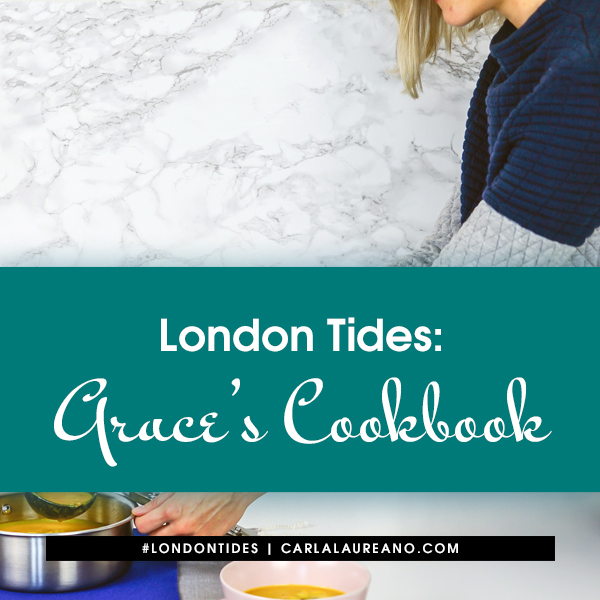 Even if a book isn't thematically-related to food, I love to cook, so all my characters end up making delectable dishes over the course of a story. Today, I'm going to share two of my personal recipes. The first  is the chicken curry that Grace makes Asha and Ian. This is based on an Indian butter chicken recipe that I've tweaked so many times, it barely resembles the original; it's now closer to a standard curry or masala than butter chicken.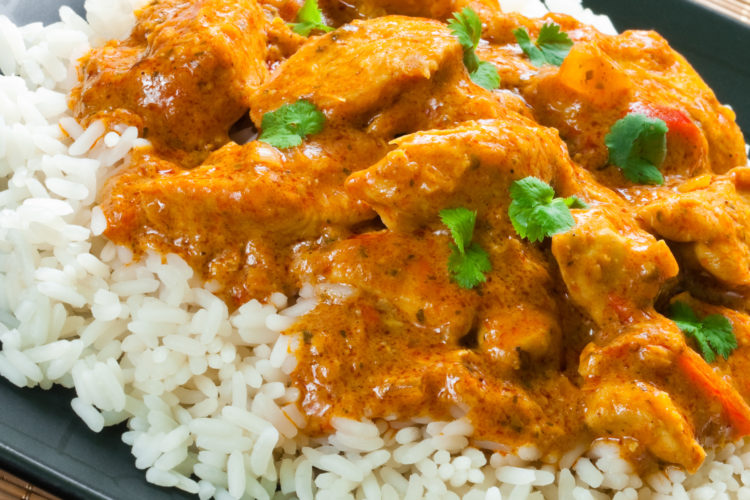 Print
Indian Chicken Coconut Curry
This curry can be made mild or spicy, according to the taste of your family or guests. The kind of curry powder you use will largely influence how strong tasting it is: ones from the regular spice section tend to be milder, while an imported curry powder from the international aisle will have a bit more of a kick.
Ingredients
2

tbsp

olive oil

2

tbsp

butter

1

large

yellow onion, roughly chopped

2

pounds

chicken thighs, cubed

1

small can

tomato paste

1

15-oz can

coconut milk, full fat

1

tablespoon

curry powder

2

teaspoons

tandoori masala

(see recipe link below)

1

teaspoon

garam masala

(I prefer Frontier brand)

1/2

teaspoon

ground cardamom

1/8

teaspoon

cayenne pepper

(optional, dependent on heat level of curry powder)

1

teaspoon

sea salt

1/2

teaspoon

pepper
Instructions
Heat oil and butter in a large skillet or medium Dutch oven, preferably enameled cast-iron. Saute onions until they begin to become translucent, about 5 minutes. Add the chicken pieces and saute until golden brown.

Meanwhile, blend spices, tomato paste, and coconut milk in a food processor. Add to the chicken in the pan and turn down the heat to low. Simmer for 45 minutes, partially covered, until the chicken is tender and cooked through and the sauce has reduced slightly.

Serve over cooked basmati rice or cauliflower rice.
Notes
For an excellent homemade tandoori masala, try this blog post. I usually omit the fenugreek leaves but it turns out just as well.
The second recipe is Filipino adobo, a recipe that doesn't appear in the story, but most definitely would have become part of Grace's repertoire when she spent time in Manila. Every Filipino lola has their special version of the Philippines' national dish, so I'd like to believe this would have been the one shared with Grace.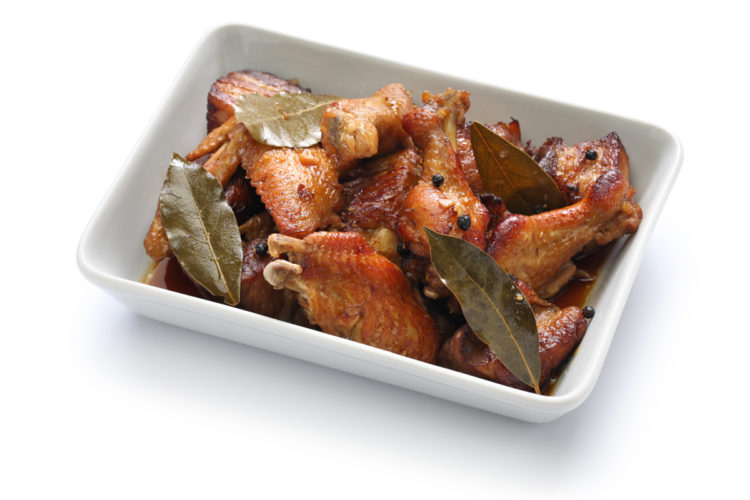 Print
Filipino Chicken Adobo (Adobong Manok)
Being married to a Filipino, learning to cook the national dish of the Philippines was pretty much a given. It took experimenting with several different versions to find one that was similar to my husband's mom's recipe, and now this is in regular rotation at our house.
Ingredients
1

tbsp

olive oil

1

whole

chicken, cut into pieces, skin-on

1/4

cup

palm vinegar

(Datu Puti or Marca Pina brand)

2

tablespoons

garlic, crushed

1

bay leaf, crushed

3

tablespoons

Filipino soy sauce

(Datu Puti or Silver Swan brand)

1/2-1

teaspoon

whole peppercorns
Instructions
Heat oil in a large skillet. Fry chicken pieces until golden brown on all sides. Drain any excess oil from pan.

Add vinegar, soy sauce, garlic, bay leaf, salt, and pepper to the pan. Bring to a boil, then simmer, covered, up to one hour, until chicken is cooked through and fall-off-the-bone tender.

Serve over cooked jasmine rice. Serve with fresh tomatoes and atsarra, if desired.
Notes
Atsarra is a papaya relish often served alongside Filipino dishes. It is available jarred from Asian stores. Tropics is the most easily-sourced brand.
I hope you enjoy these recipes. If you make any of them, be sure to come back and let me know what you thought!
Tags: chicken adobo, Indian curry, London Tides, recipes