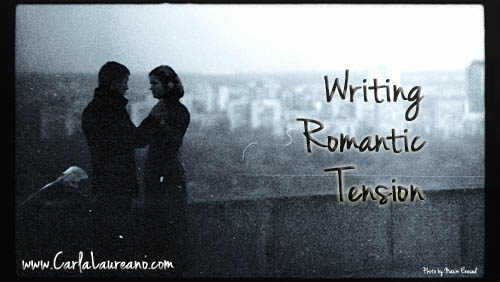 Welcome back, Beth! I had so much fun talking about writing kisses  last year (a topic on which Julie Lessman just weighed in last week) that I had to have you back talking about the fun stuff that leads up to the kisses… romantic tension. Let's start out with this… what is romantic tension and why is it important in a romance novel?
Beth: Ahem. Yes. Julie's blog post. I should print that out and post it near my computer. Julie gave two examples of powerful kisses—the kinds that readers want to read and reread. But before a kiss—and sometimes after—there's tension between the main characters in a romance. I like to think of it as a virtual tug of war. I know, I know, not a romantic visual—but it's the whole idea of two sides opposing one another. A man and a woman start off on opposites sides. They're in conflict for some reason. And then I, as the author, toss in the romantic tension. A reason, or reasons, why they're attracted to one another. It could be physical. It could be emotional. I take the time to get to know my characters before I write a single word of a manuscript—their wounds, the lies they believe, what they're afraid if—and I use those to push them apart and pull them close. Tension.
Carla: I like that description, Beth. Like magnets. Or to put it in the words I used in my first book, "a force as strong and irresistible as gravity." Romantic tension in a story lets the reader in on a secret the characters might not know yet: try as they might to resist each other, they're going to end up together.
So far, we've been talking about romantic tension as a function of characterization—why the hero and heroine like each other, what they find attractive about each other, their hopes and fears. But plot can play a major role in building romantic tension as well. My favorite way to up the tension is to let the characters acknowledge their physical attraction, but put them in a situation where it's either personally or professionally disastrous to succumb. That way they're constantly struggling against two conflicting internal desires. I've been accused of being a tease, because I like to draw the build-up to the first kiss out until the readers are begging, "Will you just get to it already?" What's your favorite plot technique for keeping the tension, well, taut, until the first kiss and beyond?
Beth: I don't have one favorite technique for keeping the tension high between my characters. My main goal is to make the tension believable—organic, if you will. It has to be right between the two imaginary people that I've created for a given novel. I try to write plausible reasons for the two to be together—and I try to avoid scenes that are cliché. I also try to write scenes where they are almost reluctantly vulnerable with one another—drawn toward each other against their wills. Being emotionally intimate with another person is risky—and can either culminate in a kiss or come after one.
Carla: I think you've hit it on the head. The best romantic tension develops from  the conflict between their unwillingness to be emotionally vulnerable and the connection to the other person. And isn't that why we love reading romance? We know when we read a romance novel the characters are going to get their happily ever after, but it's the process by which they arrive at the conclusion for themselves that makes the story so fun.
Speaking of wonderful love stories, everyone, don't forget to check out Beth's upcoming novel, Somebody Like You. I was fortunate enough to get an ARC of this one and trust me, you might as well preorder right now, because it's fabulous. I'm going to go out on an early limb and call this one of my top ten for 2014.
Thanks again for joining me, Beth! Drop by any time!
Connect with Beth: Website | Facebook | Twitter
About Somebody Like You
In this beautifully rendered, affecting novel, a young widow's world is shattered when she meets her late husband's identical twin—and finds herself caught between honoring her husband's memory and falling in love with his reflection.
Haley's whirlwind romance and almost three-year marriage to Sam, an army medic, ends tragically when he is killed in Afghanistan. As she grapples with widowhood and the upcoming birth of her son, her attempts to create a new life for herself are ambushed when she arrives home one evening—and finds her husband waiting for her. Did the military make an unimaginable mistake when they told her that Sam had been killed?
After a twelve-year estrangement, Stephen hopes to make things right with his brother—only to discover Sam died without revealing Stephen's existence to Haley. As Haley and Stephen struggle to navigate their fragile relationship, they are inexorably drawn to each other. Haley is unnerved by Stephen's uncanny resemblance to Sam, and Stephen struggles with the issue of Haley loving him as Stephen—and not as some reflection of his twin. How can Haley and Stephen honor the memory of a man whose death brought them together—and whose ghost could drive them apart?
Somebody Like You reminds us that while we can't change the past, we have the choice—and the power through God—to change the future and start anew.
Order Somebody Like You: Amazon | Barnes & Noble | ChristianBook.com
[author] [author_image timthumb='on']https://www.carlalaureano.com/wp-content/uploads/2013/07/laughingBeth1-2012.jpg[/author_image] [author_info]Beth K. Vogt is a non-fiction author and editor who said she'd never write fiction. She's the wife of an Air Force physician (now in solo practice) who said she'd never marry a doctor—or anyone in the military. She's a mom of four who said she'd never have kids. Beth has discovered that God's best often waits behind the doors marked "Never." She writes contemporary romance because she believes there's more to happily ever after than the fairy tales tell us.[/author_info] [/author]
Tags: Beth Vogt, inspiration, romance, Somebody Like You, writing