Guest Post: Love Lost and Found, by Meg Moseley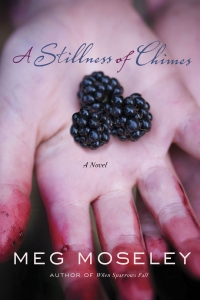 And there stood Sean Halloran, looking cramped among the coat racks and the lost-and-found box and a jumble of umbrellas along the wall. His straight, shaggy hair looked windblown even in the motionless air. Although he was only hiding in the back, he'd dignified his faded jeans with a white dress shirt and a necktie. His mouth still had the sarcastic little tilt that she'd loved since third grade or so.
She hadn't seen him since the graveyard service. Even then, at her own mother's funeral, he'd made those old longings flutter inside her like angels' wings. He was a charmer, after all, and the first boy she'd ever kissed.
—excerpt from A Stillness of Chimes by Meg Moseley
Do you remember your first "true love" from third grade or so?
I do, except I think we were in first grade. His name was Kenny, and I don't remember much about him except that his dimples and blue eyes made my heart go pitty-pat. He must have moved away at some point because he's not in the class pictures from later years, but I have no recollection of our parting.
I've always liked real-life stories about childhood romance that endures. There's something sweet about a couple whose shared memories go all the way back to grade school. My husband and I aren't one of those couples, though. We're in the whirlwind camp, with our in-person interactions adding up to only three weeks' worth of days spent together before we were engaged.
However it happens, though, love is wonderful when it works and when it lasts, and I think that's why romantic fiction remains so popular. Love is worth celebrating when it's new and fresh and exciting. It's also worth celebrating when it's older and wiser, having survived challenges and changes and troubles.
When I first started writing A Stillness of Chimes, I knew Laura Gantt faced some big challenges, including a stubborn, blue-eyed ex-boyfriend named Sean Halloran. From the start, I pictured him waiting for Laura near the lost-and-found box of a little country church, but I didn't see the significance of it until I'd finished writing the story. I hope you'll see it too.
For more information about Meg and her books, please visit her website or join her on Facebook.    
About A Stillness of Chimes
"Moseley captures readers' attention from the first page with her stellar words and writing style. This story is part fast-paced puzzle, part romantic discovery. Mystery fans will especially adore this one."  – Romantic Times
When teacher Laura Gantt comes home to Prospect, Georgia to settle her recently deceased mother's household, the last thing she expects to encounter is a swirl of rumors about the father she lost to the lake twelve years ago—that he has reportedly been seen around town. Elliott Gantt's body was never found and he was presumed dead.
Reeling by the sharp loss of a parent, Laura must now grapple with painful memories surrounding her father's disappearance and the sense of abandonment she experienced after his death. Life-long friend and former beau Sean Halloran wants nothing more than to protect Laura from the far-fetched stories of Elliott's resurrection and care for her, but he has his own reasons, troubling echoes from his childhood, to put Elliott's disappearance to rest.
Working together, Laura and Sean begin to uncover the truth, one mired in the wooded peaks and deep waters of the Blue Ridge Mountains surrounding Prospect. Can they fathom how many secrets the steep hills hold? With surprising facts revealed, will Laura be able to understand the sacrificial choices made that forever changed her life? And can love and a peace with God be rekindled in her heart after so much time has passed?
A Stillness of Chimes is available at Amazon, Barnes & Noble, ChristianBook.com, and fine bookstores everywhere. 
[author] [author_image timthumb='on']https://www.carlalaureano.com/wp-content/uploads/2014/02/author-photo-MEG.MOSELEY-medium.jpg[/author_image] [author_info]Although I've lived more than half my life in other states, I grew up in California and am still a California girl at heart. I love vintage bungalows, twisted oaks on rolling hills, and the rocky beaches of the Central Coast. A few blocks away from home stood the Lutheran church where I came to faith, first through Sunday School teachers whose kindness drew me to the kindness of God, and then through confirmation classes. The Bible verses that had been drilled into my head came to life in my heart. After moving away from home as a teenager, I worked at a variety of jobs, from candlemaker in a tourist town to administrative assistant at a Christian college. I married a wonderful man from Michigan, and we lived north of Detroit for seventeen years. That's where we started homeschooling our three children, a journey that we finished in Georgia when our youngest graduated from high school in 2009. My husband and I live near Atlanta, close to the foothills of the Southern Appalachians. His motorcycle often carries us to the mountains of Georgia, Tennessee, or the Carolinas. Sitting on the back of the bike, I can pray, enjoy the beautiful views, and plot new stories. Fiction makes my world go 'round, whether I'm writing it or reading it.[/author_info] [/author]
Tags: A Stillness of Chimes, inspirational fiction, Meg Moseley, romance