Guest Post: The Perfect Kiss, by Julie Lessman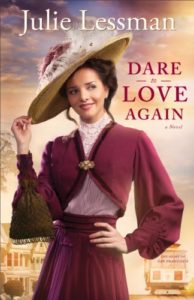 The perfect kiss? Mmm … that's a little bit like asking about somebody's favorite food, isn't it? I mean, come on—some people like their chili flamin' hot and others like it mild and sweet.
Which means that the "perfect kiss" to some might be a nose nuzzle, while to somebody else—like moi—it's a liplock that not only curls your toes, but your tummy as well.
Come on, you know what I'm talking about—like Rhett laying one on Scarlett before he swoops her up the stairs in Gone With the Wind? Or George Peppard in a liplock with Audrey Hepburn in Breakfast at Tiffany's, in the rain no less, with a cat between them. Or how 'bout that kiss in The Notebook when Ryan Gosling kisses Rachel McAdams in the rainstorm, then carries her inside and pushes her to the wall?
Whew! Trust me, as a "wall-pusher" from way back, the perfect kiss to me is when a hero makes no bones about staking his claim, disarming the heroine with a powerful and possessive attraction that pushes her back to the wall—literally!
But for me, the real secret to a great kiss are the emotions surging around it like a romantic riptide that rolls in and out. Sure, you have to get the actions right, taking the reader through the step-by-steps of a kiss as if they're watching a movie, like I blogged about in my Seeker blog, Keeping It "Reel" … or a "Novel" Approach to Putting a Movie in Your Readers' Mind. But it's those waves of emotions before and after the "kiss" that sweep the reader through a tsunami of feelings that will hopefully leave them breathless and gasping for more.
One of my favorite things to do with a kiss—which, in fact, is why the two examples below are what I consider my "perfect kisses"—is to use powerful emotions to frame a powerful kiss. For instance, my favorite love scene that I've ever written is from A Hope Undaunted and takes the reader through the ebb and flow of several strong emotions before and after "the kiss" (or "kisses" as in the first example below). In this example, the actual kiss portion of the scene begins with caring and concern on the hero's part, then swells to shock, attraction, passion, more shock, anger, revenge and finally retribution and regret for both hero and heroine.
Deep breath …
Okay, I'm sorry, but for me as a CDQ (caffeinated drama queen), the more emotion the better, and I think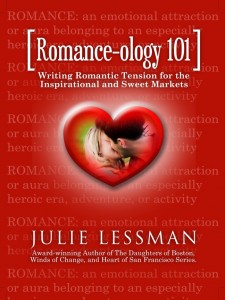 for the reader, the more emotion, the better the kiss! Which is why the second example below, also from A Hope Undaunted, is my second favorite kiss because it has all the elements I like in a love scene—tenderness, passion, humor—unleashing a groundswell of emotions from the hero's malaise to his jealousy, attraction, longing, shock, gratitude, desire, embarrassment and humor.
In my writer's workbook, Romance-ology 101: Writing Romantic Tension for the Inspirational and Sweet Markets, I quote the lyrics from Herman Hupfeld's fabulous song, As Time Goes By, which claims that "a kiss is just a kiss, and a sigh is just a sigh."
For the purpose of today's blog, I am respectfully disagreeing with Mr. Hupfeld because one of the little tricks I've learned is that "a kiss is NOT just a kiss"—it's a series of roller-coaster emotions that carry the reader to the Shores of Sigh on a tidal wave of feelings.
Ready to see what I'm talking about? Here are my first and second favorite kissing scenes that I've ever written. Why? Because when it comes to emotions, both are SO multi-dimensional! But, don't take my word for it—YOU be the judge. Tell me in the comment section below which of the two kissing scenes YOU prefer and why, and I'll enter you for a chance to win a signed copy of any of my books, including the paperback version of Romance-ology 101.
And remember … a few drops of Tabasco doesn't make the chili bad … only a little spicier!
Julie's 1st and 2nd Favorite Kissing Scenes
Thanks, Carla, for hosting me on your blog!
How to Contact Julie
I love to hear from reader friends, so if they like, they can contact me through my website, either by sending an e-mail via my site or by signing up for my newsletter, or through Facebook, Twitter, Google Plus, or Pinterest.
Also, I have a cool blog feature on my website called JOURNAL JOTS, which is a very laid-back journal to my reader friends that will give your readers an idea as to my relaxed style of writing.
Or readers can check out my favorite romantic and spiritual scenes from each of my books on the EXCERPTS tab of my website.
Of course, I can be found daily at THE SEEKERS, a group blog of 13 published authors that inspires, encourages, teaches, and informs aspiring writers on the road to publication and beyond.
[author] [author_image timthumb='on']https://www.carlalaureano.com/wp-content/uploads/2014/02/JULIE_TURQUOISE-IN-CHAIR.jpg[/author_image] [author_info]Award-winning author of "The Daughters of Boston" and "Winds of Change" series, Julie Lessman was American Christian Fiction Writers 2009 Debut Author of the Year and voted #1 Romance Author of the year in Family Fiction magazine's 2012 and 2011 Readers Choice Awards. She has also garnered 17 RWA awards and made Booklist's 2010 Top 10 Inspirational Fiction. Her book A Light in the Window is an International Digital Awards winner, a 2013 Readers' Crown Award winner, and a 2013 Book Buyers Best Award winner. [/author_info] [/author]
Tags: A Light in the Window, Dare to Love Again, inspirational fiction, Julie Lessman, kissing, romance, Romance-ology, writing romance