Interview With Author Amy K. Sorrells
I'm excited to introduce my friend and fellow David C. Cook debut author, Amy K. Sorrells. It was my great pleasure to meet Amy at ACFW last year in Indianapolis, and my even greater pleasure to be currently reading her first novel How Sweet the Sound.
Carla: Welcome, Amy. Can you tell us a little about your book?
Amy: How Sweet the Sound is a story of a family full of generations of tragedy, and how each individual emerges—or doesn't emerge—from it in the long, hot summer of 1980.
Carla: What inspired this particular novel?
Amy: This story was inspired by the story of King David's daughter Tamar, whose devastating story is told in II Samuel 13. I had a conversation with God about why, after Tamar was raped by her brother, all the Bible says afterwards is that she "went on to live in desolation." I know God doesn't want broken people to live in desolation, and that He wants—indeed, promises—we can live in joy and freedom. And so, while careful to say I am in no way "adding to the Bible," I wanted to imagine what Tamar's life might have been like, if she could experience the freedom and lovingkindness offered by Jesus. I set the story in more modern times to make it more relatable, and that's how my novel was born.
Carla: The book definitely deals with some heavy topics, but I can say that you handle them with both raw honesty and delicacy. Not an easy balance to find, especially for a debut author! What can we look forward to next from you?
Amy: I'm currently in the middle of edits for my second novel, due to publish in spring, 2015, which features a 94-year-old man near the end of his life who escaped the Jewish pogroms of turn-of-the-century Ukraine, and whose daughter learns for the first time about what he suffered, even as his mind slips further into dementia. Together, they learn how God never leaves His people and that He truly does see all our wanderings and seals our tears in a bottle. (Psalm 56:8)
Carla: Now for the fun questions.What song/album most influenced the writing of your current/most recent book?
Amy: I wore out all the 1970's Pandora stations while writing the first draft of this book, as well as a couple of the Cajun stations. I relied heavily on music of the era and locale to help me get into the mood and minds of my characters. Some of the early readers of my novel have commented on how much they enjoyed my references to music, and I think that shows how much music impacts our lives, even when it's not audible and in writing.
Carla: What does your writing cave look like?
Amy: See attached picture! 🙂 My Dad and I worked together to build these shelves and the window seat. I've always dreamed of having a room that looks just like that, and I smile every time I walk in, even though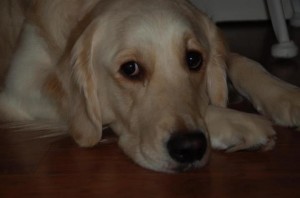 my dogs think the window seat was built just for them.
Carla: Coffee? Tea? Hot chocolate?
Amy: Coffee. Black with one Splenda. Every morning.
Carla: Dog, cat, or other pet?
Amy: Dogs. Three golden retrievers, to be exact. I try not to pick favorites between them, but here's a picture of one.
Aww, how could you resist that face? No wonder you let them have the window seat. In any case, it's a pleasure to have you here today, Amy, and I'm excited to announce that we will be including a copy of How Sweet the Sound in my Winter Warm-Up Giveaway, which ends in only a few short weeks. Don't miss your chance for another entry into the contest by leaving a comment for Amy below. ***Contest is now closed.***
About Amy
An Indianapolis native and graduate of DePauw University, Amy lives with her husband and three sons in central Indiana. A former weekly newspaper columnist, Amy has been a two-time semi-finalist for the ACFW Genesis awards, and was the winner of the 2011 Women of Faith writing contest.
Connect with Amy: Website | Facebook | Twitter
About How Sweet the Sound
A Southern Novel of Second Chances
From a distance, the Harlans appear to be the perfect Southern family. Wealth and local fame mask the drama and dysfunction swirling through their family line. But as the summer heats up, a flood tide of long hidden secrets surface.
Devastation from a rape followed by the murder of two family members brings three generations of the Harlans together on their pecan plantation in Bay Spring, Alabama. Chief among them is Anniston, who by the time she turned thirteen thought she'd seen it all. But as her heart awakens to the possibility of love, she begins to deal with her loneliness and grief.
This tender coming-of-age tale, inspired by the story of Tamar in 2 Samuel 13, shows how true healing and hope comes only from God. Though our earthly family can wound and disappoint, our heavenly Father brings freedom to those long held captive through His mercy and grace.
Order How Sweet the Sound: Amazon | Barnes & Noble | ChristianBook.com
Tags: Amy Sorrells, How Sweet the Sound, inspirational fiction, literary fiction, Southern fiction