Fictional Friday: Contemporary Romance Recommendations, May 2013
Today, I'm featuring fantastic May releases from two of my favorite authors, Becky Wade and Beth K. Vogt. Becky's book easily earns a spot on my top ten list of 2013 (yes, I realize it's only May). Beth's book inconveniently arrived in the middle of line edits, so I haven't yet finished it, but what I've read so far promises to be even better than her first novel. If you've read and enjoyed these books, be sure to leave a comment below and let these lovely ladies know!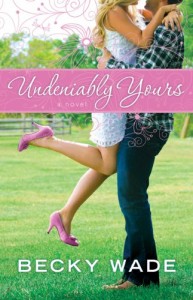 Undeniably Yours by Becky Wade
Release Date: May 1, 2013
When Meg Cole's father dies unexpectedly, she becomes the majority shareholder of his oil company and the single inheritor of his fortune. Though Meg is soft-spoken and tenderhearted–more interested in art than in oil–she's forced to return home to Texas and to Whispering Creek Ranch to take up the reins of her father's empire.
The last thing she has the patience or the sanity to deal with? Her father's thoroughbred racehorse farm. She gives its manager, Bo Porter, six months to close the place down.
Bo's determined to resent the woman who's decided to rob him of his dream. But instead of anger, Meg evokes within him a profound desire to protect. The more time he spends with her, the more he longs to overcome every obstacle that separates them–her wealth, his unworthiness, her family's outrage–and earn the right to love her.
But just when Meg begins to realize that Bo might be the one thing on the ranch worth keeping, their fragile bond is viciously broken by a force from Meg's past. Can their love–and their belief that God can work through every circumstance–survive?
Buy now at Amazon, Barnes & Noble, or ChristianBook.com.
Read my full review on Goodreads!
Catch A Falling Star by Beth K. Vogt
Release Date: May 7, 2013
Is life about accomplishing plans . . . or wishes coming true . . . or something more?
Dr. Kendall Haynes's plans to have it all—a career, a husband, a family—are eluding her. Now that she's thirty-six, she needs to stop wishing upon a star and face reality: Some dreams just never come true.
Air Force pilot Griffin Walker prefers flying solo in the air and on the ground—until a dangerous choice ejects him from the cockpit. His life becomes even more complicated after the sudden death of his parents makes him the guardian of his sixteen-year-old brother. There's no way his life will ever get back on course now.
When their lives collide during a near tragedy, Kendall and Griffin must decide if they can embrace the unexpected changes God has waiting for them.
Pre-order now at Amazon, Barnes & Noble, or ChristianBook.com!
Tags: Becky Wade, Catch A Falling Star, Christian, contemporary, fiction.Beth K. Vogt, inspirational, novel, romance, Undeniably Yours