Cover Reveal: The Solid Grounds Coffee Company
It's time for what we've all been waiting for… a peek at the third book in the Supper Club series! When the covers in a series are as good as The Saturday Night Supper Club and Brunch at Bittersweet Cafe, they can be a tough act to follow. Then again, when you have a design team as good as mine at Tyndale, you probably shouldn't worry that much. I'm absolutely delighted with this fabulous cover design by Mark Lane… complete with one of my favorite title treatments of all time.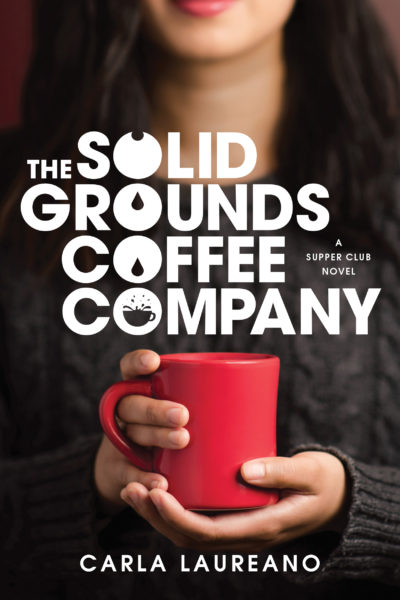 Isn't it fabulous? Making it even better is the fact that the Filipina model they found for Ana owns a coffee shop/roastery in Chicago! Keep an eye out, because as we get closer to release day, we will be sharing some of the extra footage they took during the photo shoot.
In the meantime, here's what The Solid Grounds Coffee Company is all about:
Analyn Sanchez can handle the long hours and arrogant clients that come with her job as a crisis management associate at Denver's largest publicity firm. The high-powered job, expensive condo, and designer wardrobe are all part of her plan to prove to her family that her life choices haven't been in vain. But when she's asked to cover up a client's misdeeds with serious moral and legal ramifications, she can no longer sacrifice her conscience for her career . . . and the cost is no less than her job.
Ever since a devastating climbing accident in Central America eight months ago, and a bad decision that dried up his sponsorships, professional rock climber Bryan Shaw has found himself at similar loose ends. When the opportunity to buy a coffee farm in Colombia arises, he jumps on it—only to discover his wandering ways have left him utterly unprepared to run a business.
When Bryan returns home and offers Ana a role in his company as a solution to both their problems, she's desperate enough to consider working with the far-too-flippant and far-too-handsome climber, even though he's the polar opposite of her type A nature. As they delve deeper into the business, however, she begins to suspect there's much more to Bryan than she's given him credit for . . . and that sometimes the best plans are the ones you never see coming.
As of now, The Solid Grounds Coffee Company is only available for preorder on Amazon, but I expect it to be up on the other retailers within the next week. Check back for links!
Tags: cover reveal, Solid Grounds Coffee Company