Under Scottish Stars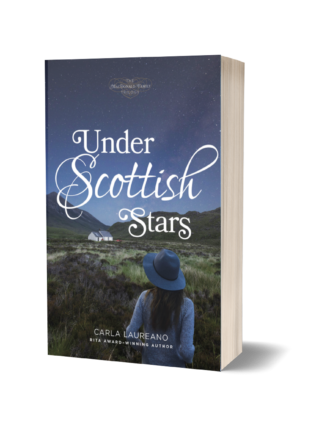 July 7, 2020
Publisher: Tyndale House Publishers

Book 3 in the award-winning MacDonald Family Trilogy!
Recently widowed Serena MacDonald Stewart focuses on her children to the exclusion of her career, her artistic pursuits, and her sanity. When her brothers ask her to oversee the family guest house on the Isle of Skye, it might be her chance to dust off her long-ignored business skills and make a new start. But her hopes for a smooth transition are dashed when the current hotel manager, Malcolm Blake, turns out to be irritating, condescending . . . and incredibly attractive.
Malcolm Blake gave up everything—his home, his girlfriend, and his career—to return to Skye and raise his late sister's teenage daughter. With few job opportunities available on the island, he signs on as the manager of the MacDonald family hotel, which he's soon running successfully without interference from the owners. That is, until Serena shows up, challenging his authority as manager… and his conviction that there's nothing missing from his new life on Skye.
Before long, Serena and Malcolm have to admit the spark between them doesn't come from mere irritation, but as single parents, there is more than just their own hearts on the line. Will their commitments to family be the thing that draws them together… or the only thing that could keep them apart?
A wonderfully entertaining read from first page to last, "Under Scottish Stars" showcases author Carla Laureano's impressive originality, her effective narrative storytelling style, and her complete mastery of the romance genre. Midwest Book Review

Print:






eBook:






Audiobook:


A satisfying romance that reminds readers that love doesn't always go according to our agendas--and that can be a very good thing. Beth K. Vogt, Award Winning Author
Under Scottish Stars is a fabulous read, filled with compelling characters, a delicious setting, and a romance that can only be described as swoon-worthy.Jen Turano, USA Today Bestselling Author
Solid characters, brilliant dialogue, believable conflict, a setting you can taste--and, always, breath-stealing love scenes. No one writes a romantic hero like Laureano! Candace Calvert, Bestselling Author
Laureano pens a worthy crossover title concluding this modern romantic trilogy that could also stand alone as a winsome story of community and second chances. Fans of light, contemporary, Christian romance along the lines of Jenny Colgan or Bethany Turner will want to add Laureano to their lists. Library Journal
...Emotionally astute... Publishers Weekly
A wonderfully entertaining read from first page to last, "Under Scottish Stars" showcases author Carla Laureano's impressive originality, her effective narrative storytelling style, and her complete mastery of the romance genre. Midwest Book Review