Carla's Friday Five (Valentine's Edition) – 02-14-20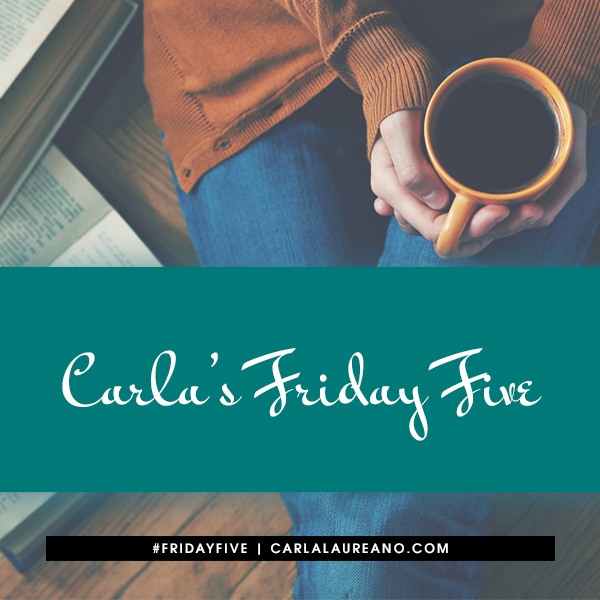 Happy Valentine's Day, friends! Given the holiday, I thought I would do something different for my Friday Five this week. I've been married for a long time, so it's been a while since I've spent Valentine's Day alone, though my husband and I really don't celebrate anymore. (I'm of the opinion it's more of a Hallmark holiday.) However, before the coronavirus hit China, my husband was supposed to be in Asia for work this week, so I was already planning on having my own little V-Day party after the kids went to bed. Better yet, I probably should have grabbed some friends and had a good old-fashioned slumber party.
Hence, I give you Carla's top five necessities for the perfect Valentine's/Galentine's Day!
Meg Ryan at her cutest (and most stressed out), Hugh Jackman as a 19th century duke, and time travel. What's there not to like? For us writers, there's the extra bonus that this movie has literally perfect narrative structure–so it's pretty much a master class in plotting a rom-com, whether in screenplay or book format. I always end this movie wishing for more 1867, too, or at least Hugh Jackman in a waistcoat.
I'll try not to overstate my case, but Lucy Parker is literally the only general market romance writer who has permanent auto-buy status for me. It's no secret that I love London (the home of my heart), so a series of witty, flirty slow-burn romance novels that take place in and around London's West End theater culture pretty much has "Carla" stamped on it. Oh, did I mention that every single one is an enemies-to-lovers story (my favorite)? By current romance standards, these books are pretty tame, but cautious readers should know that there are varying levels of sexual content and language in all five volumes. (If I recall correctly, book #1 was the "cleanest" and #3 and #5 were the spiciest…but it's been a while since I read the early books in the series, so don't quote me on that.) Overall, though, the character and relationship development happen outside the bedroom, so you don't need to worry about missing a lot of plot if you skip those sections.
What Galentine's Day celebration would be complete without chocolate? It's harder than you think, though, when you only buy Fair Trade Certified and preferably organic… most of the bars taste like chocolate-flavored wax. Green & Black's European style chocolate is made in Poland and reminds me of what Dairy Milk used to taste like before Mondelez bought Cadbury and changed the formula. (Ironically, Cadbury bought Green & Black's about 15 years ago and is now owned by Mondelez as well, so they better not mess with my G&Bs.) For those of you who prefer darker chocolate, they also have 70% and 85% bars that are just as tasty.
Dessert: Macarons
I've become somewhat (okay, completely) obsessed with macarons in the past few years, and while most of the delicate French almond cookies that are available in the US are just okay (run, don't walk, away from the big box of Tipiak cookies in Costco), there are a few commercially available frozen brands that are worth shelling out for. Both Sprouts and Kroger have their own private-labeled macarons that are pretty good; Trader Joe's are excellent but only available sporadically (I buy them out when they're in stock, because they're only $4.99 a dozen, which is a steal). None of them live up to the fabulousness of Ladurée, but until I can hop on a plane to Paris for dessert, I'm more than happy with the compromise.
Nail Polish: Essie On Mute + Luxeffects Topcoat in Summit of Style
I struggled with coming up with a fifth necessity. To be honest, I could be happy with a cup of tea, the chocolate, and a book. And then I remembered that every time the boys are otherwise occupied and my husband is gone, I paint my nails. This is my favorite holiday color combination: a non-sparkly charcoal gray with a quick sweep of gold glitter topcoat. The contrast is gorgeous, and it's fancy without being sweet. (Because of all the things people might call me, "sweet" is not one of them.) Just be sure to use a good base coat and top coat, because the dark gray will stain and the gold is hard to get off if not bonded to a thicker top coat.
There you go! Tell me in the comments below– what are your necessities for a quiet Valentine's Day in?
Tags: Essie nail polish, Green & Black's chocolate, Kate & Leopold, London Celebrities series, Lucy Parker, macarons