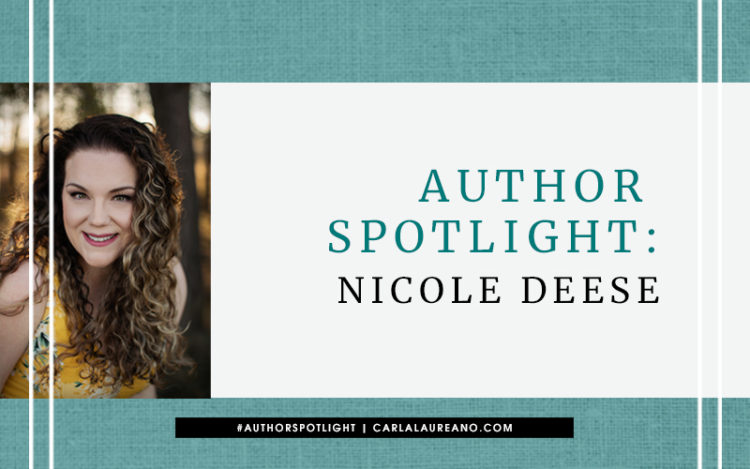 I'm very excited to introduce my first guest in my new format, the Author Spotlight! While I love the guest blogs that authors write for my site, I thought it would be fun for us to get to know these fabulous folks on a more personal level. Today, I'm thrilled to welcome Nicole Deese! I feel like I've known Nicole for absolute ever, though I'm guessing it's more like seven years…and I'm super excited for her new novel, Before I Called You Mine.
Without further ado, let's get to know Nicole!
CL: Thanks for joining me today, Nicole! Let's start with a tricky question: which is your favorite book that you've written so far?
ND: My newest release, Before I Called You Mine, will likely hold the "Nicole's Favorite Book" badge for decades to come simply because it's so deeply rooted in my own personal journey and experiences as a woman, wife, mother and, most importantly, as a Christ follower. After we adopted our daughter, Lucy Mei, from China in 2017, the idea for this story began to sprout wings in my heart. I met several single adoptive mothers when we traveled to China to meet our daughter for the first time (as a 6.5 year-old orphan), and the stories I heard there both intrigued and inspired me.
Though adoption is only one of several layered storylines in this contemporary Christian romance, the overall message is much broader. It really comes down to the choices we make, the fear that so easily entangles, and the courage we need to take the next right step despite the sacrifices we endure. These characters—Lauren and Joshua—became like extended family members to me during the writing season of BICYM. I smiled and laughed and cried through their many of their ups and downs and wasn't totally ready to send them off into the real world… but now I'm so glad that I did. I hope you enjoy their story even half as much as I enjoyed writing it.
CL: I can't wait to read it for myself. You've been fairly prolific over the last couple of years. How long does it take you to write a book?
ND: I've written a novel in as little as three months, but my sweet spot is closer to the six-month mark. I really like to have time to iron out all the little details and connections as I go.
CL: That leads in perfectly to my next question, then. You say you like to iron out the details as you go… does that make you a plotter or a pantser?
ND: I'm a mix, actually. I like to have an idea of where I'm going before I start so I don't end up in Chicago when I'm supposed to end up in California (and as I've mentioned previously, I'm terrible with directions so yeah… in need some kind of GPS!) Also, since I'm a verbal processor, I usually have approximately 238 conversations with Tammy Gray and Connilyn Cossette before I actually start my first chapter. (I'm also involved in an annual plotting retreat with the brilliant minds behind Coast to Coast Plotting Society: Christy Barritt, Amy Matayo, Tammy Gray and Connilyn Cossette. I'd be lost without this crew!)
CL: What's the easiest part of the writing process for you?
ND: Talking about my book to writer friends and daydreaming about the romantic scenes I'll write while I drive around town. (It's truly no wonder why I have THE WORST directional sense known to mankind!)
CL: I've definitely missed my turn while working through a plot point before! If the easiest part is the daydreaming, what's the most difficult part?
ND: Literally everything else–haha! Honestly, sitting down and writing words as part of my daily routine is the hardest thing for me to do (a.k.a. Nicole vs. Self-Discipline). I'm easily distracted by all things social, so at times when the story I'm writing feels a bit too sluggish in my head, it can be a real challenge for me to just sit down and write the words.
CL: I get that! There doesn't seem to be too many of us extroverts in the writing world. I've had to shut down my internet connection before just so I'll get off social media and hit my daily word count!
Let's move on to the lightning round portion of this interview… a little game I love called This or That? Ready, set, go!
Coffee or tea? Coffee (Nespresso!)
Coke or Pepsi? Neither, Bubbly, please!
Cold drink or hot drink? COLD drinks!
Action movies or dramas? Dramas for sure.
Comedies or thrillers? Comedies (I love to laugh!)
Movie at home or at the theater? A movie at home (while wearing my pjs, and with all the popcorn and snacks I want.)
E-books or physical books? Both. Always, both. J
Board games or video games? Board Games (I love Apples to Apples!)
Play or musical? Musical
Massage or facial? Massage
Makeup or blowout? Makeup
Movie date or walk on the beach? A walk on the beach please (At sunset <3)
Mountains or beach? Mountains (The number one reason we live in Idaho!)
Winter or summer? Winter (I love being cozy while it's snowing outside!)
Spa or gym? SPA!!!
Tent or RV? (I'm a Glamper… RV life for sure!)
Nature or indoors? Indoors (with a view!)
Group travel or alone? Group Travel (I'm an extrovert!)
Driver or passenger? Passenger (So I can talk with my hands without risking lives!)
Surprise party or theme party? Theme Party (Though I've never been to one so please invite me!)
Thanks so much for joining me for this fun interview, Nicole. Friends, if you'd like to know more about Nicole Deese and her books, you can follow her here: Facebook | Twitter | Instagram | Bookbub
Don't forget to add Nicole's new novel, Before I Called You Mine, to your reading list and mark it To Read on Goodreads! It's available everywhere books are sold on March 31, 2020. Scroll down for your chance to win an autographed copy for your very own!
Lauren Bailey may be a romantic at heart, but after a decade of matchmaking schemes gone wrong, there's only one match she's committed to now–the one that will make her a mother. Lauren is a dedicated first-grade teacher in Idaho, and her love for children has led her to the path of international adoption. To satisfy her adoption agency's requirements, she gladly agreed to remain single for the foreseeable future; however, just as her long wait comes to an end, Lauren is blindsided by a complication she never saw coming: Joshua Avery.

Joshua may be a substitute teacher by day, but Lauren finds his passion for creating educational technology as fascinating as his antics in the classroom. Though she does her best to downplay the undeniable connection between them, his relentless pursuit of her heart puts her commitment to stay unattached to the test and causes her once-firm conviction to waver.

With an impossible decision looming, Lauren might very well find herself choosing between the two deepest desires of her heart . . . even if saying yes to one means letting go of the other.
Tags: Before I Called You Mine, Nicole Deese, This or That