Book Rec: The Secret Life of Sarah Hollenbeck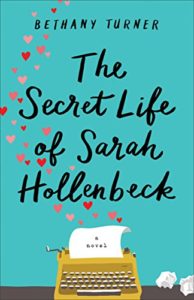 Guys, I'm not superstitious, but this book review seems to be cursed! I recorded it almost a month ago, and every attempt to get it uploaded and online failed. Facebook… four tries, each time I got a confirmation, the post disappeared. Transferring it via USB to my laptop? Failed. Transferred through the cloud? Don't make me laugh.
At long last, I successfully got it uploaded to YouTube and I get to share it with you! And this one is worth the wait, because The Secret Life of Sarah Hollenbeck by Bethany Turner is great. I'm so happy to see chick-lit coming back into fashion, because it's my go-to for a fast, fun, flirty read, and Sarah Hollenbeck is no exception.
You can grab your copy at Amazon, Barnes & Noble, ChristianBook.com, or your favorite local bookseller. And after you've read it, don't forget to leave a review on Amazon and Goodreads! Your honest reviews help authors.
Tags: Bethany Turner, chick lit, Christian fiction, romance, The Secret Life of Sarah Hollenbeck