A Writer's Life: Elizabeth Byler Younts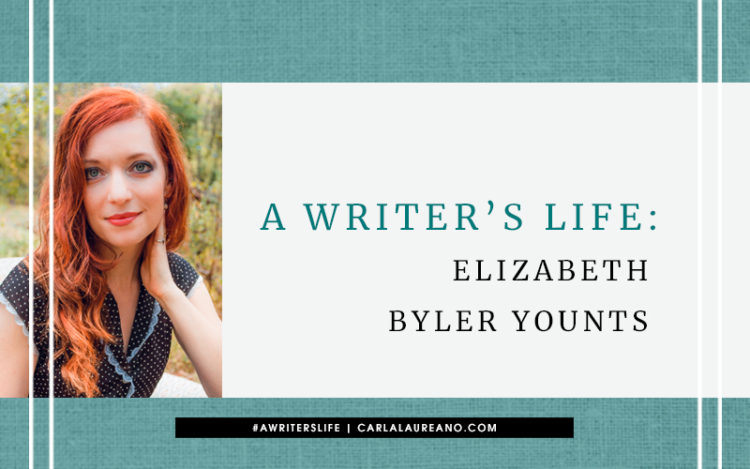 I'm so excited to introduce today's guest, my close friend and a wonderful writer, Elizabeth Byler Younts. She's fresh off her Carol Award win for her novel The Solace of Water last weekend, and I couldn't be happier for her! With her usual humility, she was sure she wasn't going to win the historical category, but I had the sneaking suspicion that this might be her year! When she did win, I think I cheered loud enough at home to scare my neighbors. So that makes me doubly excited for her upcoming book, The Bright Unknown, which is sure to be a fascinating look into a time and place that few of us know about: 1940s asylums.
Join me in welcoming Elizabeth as she gives us a fascinating look into her writing process. And don't forget to read through to the bottom for your chance to win a copy of The Bright Unknown!
All the Voices in my Head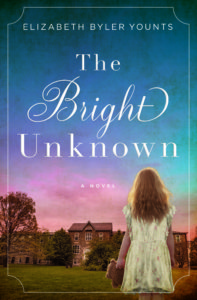 When Carla asked me to contribute to this wonderful column on her blog I really wasn't sure what I wanted to write about. There is much to "the writer's life" (as with many careers) and I struggled to know what I should talk about. The voices in my head have been very loud and distracting that I could hardly temper them to get this blog written!
You can see where I'm going with this…
A lot of writers talk about being a plotter or a pantser or somewhere in the middle. While I fall somewhere in the middle I feel like the pre-writing stage for me is really what informs my writing far more than whether or not I plot a story. The Solace of Water, which released June 2018, was a book that I started dreaming up in the fall of 2012. The plot came slowly and without a great deal of direction for years. When I knew that the door was swinging open wide enough that I could begin to write it, my brain synapses went wild. Enough pieces fitting together to write several chapters to figure out if this was really a book I could settle into. It was, thankfully.
When The Solace of Water sold to Harper Collins Christian, the second contracted book was my upcoming release The Bright Unknown. This tale began to form in my heart and soul around my dinner table in the spring of 2014 through a tiny seed of a story spoken in the precious voice of my grandmother-in-love. Once it hits retailers that original idea will be over 5 years old.
But the voices. Delilah. Emma. Brighton. Angel. Nell. So many voices telling me their stories. I lean into their conversations and whispers and take feverish notes on random planner pages, mini purse notebooks, and sticky notes with the hopes that when it comes time to begin writing I can gather up all of those years of ideas like windblown petals to create a beautiful bouquet.
With all of this in mind, I finally get to share The Bright Unknown with all of you in less than a month. The journey this story has taken me on and the voices of so many who live with me daily are still just on the other side of the thin veil of my heart. The girl you will meet, her outcast best friend, and all the women who have been shut away out of sight in an rural asylum because they are inconvenient—this is how you will begin the story of The Bright Unknown. It is not for the faint of heart and the story will take you to valleys we would all rather avoid in our realities—but, oh, the hope that comes when we turn toward the light, even when it means to walk upon an unknown path.
Will you take this journey with me and hear all of these voices tell you their story? I hope you do!
Elizabeth Byler Younts writes historical fiction for Harper Collins/Thomas Nelson. She gained a worldwide audience through her first book Seasons: A Real Story of an Amish Girl and is both a RITA award finalist and Carol award winner. She is also the author of the critically-acclaimed novel The Solace of Water and The Promise of Sunrise series. She has consulted on Amish lifestyle and the Pennsylvania Dutch dialect for two award-winning television shows. Elizabeth lives in Central Pennsylvania with her husband, two daughters, and a small menagerie of well-loved pets.

Visit her at //www.elizabethbyleryounts.com/