A Writer's Life: Getting It All Done (Somehow) with Lindsay Harrel
I'm excited to introduce my "A Writer's Life" guest this month: Lindsay Harrel. I've known Lindsay for several years, since our pre-published days, and so it's really fun to be able to introduce you to her debut women's fiction novel with Thomas Nelson, The Heart Between Us! I happen to relate a lot to Lindsay's post today because I started my publishing journey with two little boys at home as well. Things are easier now that they're both in school and have their own lives (more of a social life than I do, in fact) but I remember those exhausted early days all too well. Without further ado, here's Lindsay!
Getting It All Done… Somehow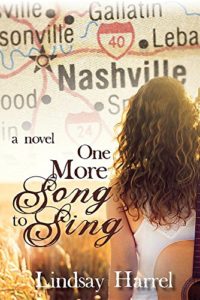 People often ask me how I find time to write books with two little kids at home.
The answer I want to give them? "Oh, it's simple. I just have my super-organized list, check off each item with ease, and viola! Manuscript complete. Social media posts posted. Dinner made. Laundry folded. Children flourishing."
But the truth? "Somehow."
Honestly, I actually am a really big planner. I love to-do lists, and I do think they help me. But sometimes I look at my list and I get suuuuuper overwhelmed. Like, my eyes bug out and I just wanna crawl under the covers and eat chocolate and never come out again. That kind of overwhelmed.
I am grateful that I have family in town to help watch my children (a 3yo and 10mo) while on deadline. My stepmom, mother-in-law, and husband are wonderful during these intense times of writing and editing!
Even when I'm not on deadline, I typically have one day a week when someone keeps the kids for me. But I thought it'd be fun to give you a peek into what a typical day might look like for me when I have the kids at home. Ready?
5 am: Alarm goes off. I groan and reset it for 5:30.
5:30 am: Alarm goes off again. I reluctantly throw back the covers, pull myself out of bed, and head downstairs to the couch, where I try to stay awake enough to read my Bible, do a Bible study, write in my prayer journal, etc. (Notice I do not make coffee. Can't stand the stuff, though some mornings I'm tempted. Do you think I could just get it via IV so I don't have to deal with the taste?)
6 am: I make my husband's breakfast and lunch before he heads out the door. Then I stick a bottle in the bottle warmer for the baby, who likes to wake anywhere between 6 and 6:30.
6:30 am: Feed the baby. Bring him downstairs to play while I check my email, prep breakfast, and/or finish up the Bible study I may have fallen asleep through.
7/7:30 am: The toddler (aka Hurricane Elliott) wakes up. We eat breakfast, play, read, clean up, etc.
9 am: The baby goes down for a nap. I do social media stuff while my toddler watches TV. (Don't judge! Sometimes, he plays outside instead. But yeah.)
10/10:30 am: Baby up. We run some sort of errand: grocery store (Walmart grocery pickup has changed my life, you guys!), gym, library, Costco, etc.
12/12:30 pm: Back home for lunch!
1:30-3:30 pm: The boys are down for nap (thank goodness my toddler still naps). This is my prime work time (I'm typing this while my kiddos sleep, in fact). If I'm in drafting mode, I try to get one scene written during naptime. If I'm editing, I just do as much as I can. If I'm in marketing mode, I write guest posts, create spreadsheets, send emails, etc. Usually, this is my best time to be creative though, so I try to put this time aside to do things I can't easily do when the kids are awake.
3:30 pm: The kids are up! We play a bit, then I make dinner while they play independently or have screen time. If I was awesome and made a crockpot meal earlier, then I use this time to do more admin/social media/email stuff.
5/5:30 pm: My husband is home (hallelujah!) and we eat dinner as a family. This is super important to us and something we try to make a priority no matter how busy.
6/6:30 pm: We have tried to start going for family walks in the evening (we live in Phoenix, so the weather is gorgeous right about now!). This is great for talking and getting some energy out of the toddler.
7/7:30 pm: Put the kids to bed. Drag myself downstairs. This is where I really waffle between putting on an episode of This Is Us, reading, hanging with my husband, or making myself work. Usually I split the difference. Half the time, I do something relaxing. Half the time, I work. Sometimes, I make myself work for an hour, then relax for an hour.
10 pm: I try to be in bed by 10 and then usually read or look at Facebook for 30 minutes.
Then I start all over again the next day.
On the weekends is when I attempt to clean (although I'm currently staring at four laundry baskets full of unfolded clothes…I won't tell you how long they've been there) and meal plan for the next week.
I do try to take Sundays off so I can get a little bit of refreshment.
As you can see, the time I get to actually work on writing each day is not a lot—maybe 3-5 hours. But somehow (there's that word again!), it all gets done. I try to remember that God called me to this writing thing, and he called me to this mommy thing.
And he equips those who he calls.
Sometimes, I get really exhausted by all that's on my plate. But I'm also thankful, because I truly am living my dream. It doesn't always look the way I thought it would, but that's okay. It's my life, and I love it.
Lindsay Harrel is a lifelong book nerd who lives in Arizona with her young family and two golden retrievers in serious need of training. She's held a variety of writing and editing jobs over the years, and now juggles stay-at-home mommyhood with writing novels. When she's not writing or chasing after her children, Lindsay enjoys making a fool of herself at Zumba, curling up with anything by Jane Austen, and savoring sour candy one piece at a time. Her second novel, The Heart Between Us, releases March 13. Connect with her at www.LindsayHarrel.com.
About The Heart Between Us
Megan Jacobs always wished for a different heart. Her entire childhood was spent in and out of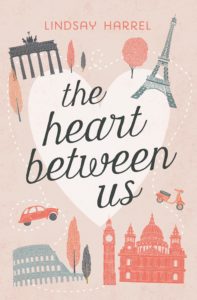 hospitals, sitting on the sidelines while her twin sister Crystal played all the sports, got all the guys, and had all the fun. But even a heart transplant three years ago wasn't enough to propel Megan's life forward. She's still working as a library aide and living with her parents in her small Minnesota hometown, dreaming of the adventure she plans to take "once she's well enough." Meanwhile, her sister is a successful architect with a handsome husband and the perfect life—or so Megan thinks.
When her heart donor's parents give Megan their teenage daughter's journal—complete with an unfulfilled bucket list—Megan connects with the girl she meets between the pages and is inspired to venture out and check off each item. Caleb—a friend from her years in and out of the hospital—reenters her life and pushes her to find the courage to take the leap and begin her journey. She's thrown for a loop when Crystal offers to join her for reasons of her own, but she welcomes the company and the opportunity to mend their tenuous relationship.
As Megan and Crystal check items off the bucket list, Megan fights the fears that have been instilled in her after a lifetime of illness. She must choose between safety and adventure and learn to embrace the heart she's been given so that she can finally share it with the people she loves most.
Tags: Lindsay Harrel, The Heart Between Us, women's fiction