Writer's Day Off: Top 5 Movies About Writers
Monday is normally my two-minute writing tip, but after finishing my rough draft of my next novel exactly twenty-three minutes before my kids got out of school for the summer, I've been in hard core vacation mode the last few days. So, because every writer needs a little downtime to keep performing at her best, today's post is a run-down of my favorite movies with a writer as a main character.
5. Julie & Julia (2009) – This charming book-to-screen adaptation follows a frustrated New Yorker as she blogs her way through Julia Child's Mastering the Art of French Cooking. While Amy Adams is good in pretty much any role she undertakes, Meryl Streep as Julia Child is an absolute scene stealer. Watch this movie for her wonderful characterization, along with a fantastic turn by Stanley Tucci as Julia's husband, Paul. I dare you not to have fantasies of cooking boeuf bourguignon in your fabulous Paris flat.
4. Misery (1990) – This Stephen King classic is a horror masterpiece, even with the changes made in the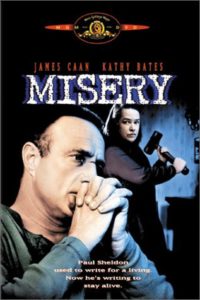 book-to-screen adaptation. Kathy Bates is particularly chilling in her Oscar-winning role as a rabid fan who rescues and then imprisons her favorite author when he gets in a car accident near her home. She then forces him to write a book bringing her favorite character back to life. This is particularly fun because not only does it work incredibly well as a horror thriller, but also as a sly commentary on the conflict writers must resolve between pleasing their fans for commercial success and writing for themselves.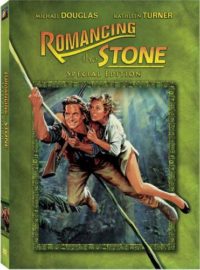 3. Romancing the Stone (1984) – This was one of my favorite movies as a kid, though upon watching it recently, I was surprised that it had so much language and racy bits! A good part of the movie must have gone straight over my head. That said, this story of a romance writer who embarks on an adventure not unlike that of her heroines in order to save her sister who has been kidnapped in Colombia is pure fun from start to finish. Not only is this Michael Douglas as his rakish best, but romance writers will take a certain meta-pleasure in a romance novelist who finds herself in a real-life romance novel in a movie that is structured exactly like a popular romance novel. For the record, my very favorite part is when the drug lord Juan turns out to be a fan—because he's been reading her books to his boys.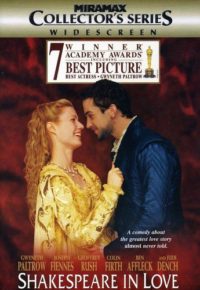 2. Shakespeare in Love (1998) – Humor, Shakespeare, Joseph Fiennes and Judy Dench is such a winning combination in this multi-Oscar-winner that I can almost overlook how much I dislike Gwyneth Paltrow (who admittedly did a decent job in this role). The premise is that William has writer's block until he meets the much-out-of-his-league Viola de Lesseps; his evolving script for Romeo & Juliet mimics the romance and tragedy in his own life. There's so much to love about this movie, but the sly references to the rumors that Christopher Marlowe actually wrote Shakespeare's plays will please those who like both literature and the Elizabethan era.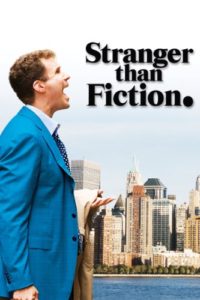 1. Stranger Than Fiction (2006) – In this smart, quirky dark comedy, Will Farrell plays an IRS agent, Harold Crick, who suddenly begins hearing a voice in his head narrating his life…and foreshadowing his imminent demise. Meanwhile, Emma Thompson is the blocked writer who is desperately trying to finish her manuscript by trying out possible deaths for her character. What follows is his whimsical and touching journey to find what really matters in life while the end looms out of his control. Maggie Gyllenhaal is particularly charming as the intentionally tax-delinquent baker; Crick's relationship with Ana sets up some of the sweetest and most memorable moments in the movie.
There are dozens more. Next up for me is Adaptation; I've even got it recorded on my DVR, ready to play when I have a free moment.
What's your favorite movie involving writers/writing? Which ones should I be sure not to miss?
Tags: movies about writers