Words for Women: An Angel in Disguise, by JoAnn Durgin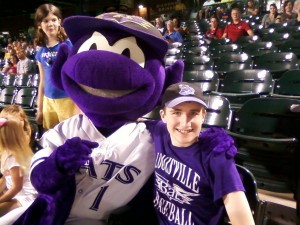 February 2nd. Sure, some call it Groundhog Day. But in 1996, it was the day I first held my son Matthew—our third and last child—in my arms at Holy Redeemer Hospital outside Philadelphia. You must understand I'd always wanted girls to dress in frou-frou confections and frilly socks, red patent leather shoes at Christmas and headbands with pretty bows and flowers. I knew my husband, Jim, really hoped for a boy the third time around. Maybe it was the old "carry-on-the-family-name" thing. Maybe it was so he'd have added testosterone in the house to cheer for the sports teams or yell at umpires who make bad calls. In any case, Jim got his wish, and I couldn't have been more thrilled. From the start, I fell in love with my son.
Boys are different, as we all know. They think differently, they act differently and they have a unique way of expressing themselves. I'm going to give you the short version: we knew by 18 months of age that Matthew was "different." He understood our language, but he didn't speak it. We enrolled him in an "early intervention" plan (by this time, we lived outside of Boston and my husband pastored a church). One of the nursery workers at the church told me she watched our son closely while he played with nesting cups. Unlike other children, he sat on the floor and patiently studied them until he was ready to stack them inside one another. Then, with methodical precision, he proceeded to put all ten of them—one inside the other—without missing a beat.
One of my sweetest recollections from those early years is of Matthew marching into the church sanctuary shortly before he turned three. He pushed a chair up to the pulpit and oh did he preach the Word of God! He shook his finger at his imaginary congregation and—while not exactly a fire-and-brimstone oratory, and in his own unique language—he punctuated every other line with "Jesus!" Matthew knew what he was saying. And the Lord knew. When he escaped the house one day and ended up in the middle of the somewhat busy street, a neighbor (who wasn't usually around) saw him and ran to get him. But not before traffic miraculously stopped in both directions. Praise God! He could so easily have been killed, and my heart stops every time I think of it. The Lord had bigger plans for this child, and He wrapped His arms of protection around our son. And stopped traffic. And brought a seldom-seen neighbor to the rescue.
Some of the best child development specialists and neurologists in Boston tried to tell us our son was mentally deficient. It's true a parent becomes their child's strongest advocate. I knew my son was intelligent but learned at his own rate. He looked "normal" and was an adorable child with blond hair and gorgeous blue eyes. Eventually, Matthew was diagnosed with Asperger's Syndrome, a high-functioning form of autism. The early years in school were challenging, but he proved his fine motor skills and eye-hand coordination were superior. Language skills have always been his biggest challenge. But this is key: he might learn at a slower rate than most children, but once Matthew learns something, he knows it.
Today? At the age of 17, Matthew is an A-B student. He earns A+ in subjects like chemistry and algebra, but English and critical thinking are his most difficult challenges. But atypical for someone with autism, he'll look you straight in the eye when he speaks with you. His memory is amazing, his compassion boundless. I wouldn't trade him for a hundred "normal" kids. When we picked up Matthew from a week-long summer church camp last year, the kids had written their names on a poster and other campers wrote remembrances. Around Matthew's name? One wrote, "Practices what he preaches." But the kicker (and the one that tugged at this mama's heart)? "An angel in disguise."
Each child is special in his or her own way, of course. And it's often those people considered "special" who are the ones who can truly teach us the most.
2 Corinthians 12:9 says: But he said to me, "My grace is sufficient for you, for my power is made perfect in weakness." Therefore, I will boast all the more gladly about my weaknesses, so that Christ's power may rest on me. (NIV)
Be thankful for the challenges in your life, friends. They often turn into unbelievable blessings.
About Catching Serenity
A woman torn apart by secrets. A man held prisoner by the truth. Can the greatest love of all set them both free?
Serenity McClaren had it all before her life crumbled around her like the sand castles on her beloved beach, causing her to flee Croisette Shores and the only home she'd ever known. Nearly five years later and living in Atlanta, she receives a mysterious, unsigned note: Come home, Serenity. Things aren't as they seem. Time to find your answers. Returning to South Carolina, she prepares to face her demons and the ailing father she left behind, hoping to make peace with both.
Child psychologist Jackson Ross is a man with a surprising past. He's ready for the quiet life and  eager to establish his practice in the quaint, coastal village. After he hires Serenity to decorate his new office, he's drawn to the beautiful and enigmatic woman yet sees she's haunted by a past she can't escape. Wanting to help her, he begins to suspect one of his young patients may hold the key to unlocking Serenity's secrets. Jackson follows his instincts and discovers the shocking truth, but how can he tell the woman he's grown to love what he knows—and set her free—without compromising his professional ethics and losing her forever?
About JoAnn
[author] [author_image timthumb='on']https://www.carlalaureano.com/wp-content/uploads/2013/09/JD2_orig.jpg[/author_image] [author_info]Catching Serenity is JoAnn Durgin's fifth full-length novel. The author of The Lewis Legacy Series and Christmas novellas, Meet Me Under the Mistletoe and its sequel, Starlight, Star Bright (coming in 2013), she's an estate administration paralegal in a Louisville, Kentucky law firm and lives in southern Indiana. Visit her at www.joanndurgin.com or via her Author JoAnn Durgin page on Facebook. [/author_info] [/author]
Tags: Asperger's Syndrome, JoAnn Durgin, special needs