A Peek at the Final MacDonald Family Book!
Well, you guys have great timing as usual–because just as I'm getting a ton of inquiries about when you can expect the next and final installment in the MacDonald Family Trilogy, the cover is here!
I'm really excited about this one. Designed by David C. Cook's senior designer, Nick Lee, I think this might be my favorite cover of the series. Without further ado, Under Scottish Stars.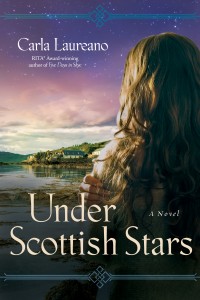 You wanna know what it's about? Here you go! I'm really excited to be back on the Isle of Skye for this story…
A second chance at love…on the lush Isle of Skye
Recently widowed Serena MacDonald Stewart focuses solely on her children—to the exclusion of career, artistic pursuits, and her sanity. When her brothers ask her to use her long-ignored business skills to oversee the family guest house on the Isle of Skye, she thinks it might be a chance for a new start. But her hopes for a smooth transition are dashed when the current hotel manager, Malcolm Blake, turns out to be irritating, condescending … and incredibly attractive.
This is your invitation into a sparkling Scottish romance brimming with heart and heat.
Under Scottish Stars is scheduled to release June 2016. Preorders should be up on all retailers sometime this week!
So, what do you think? Which cover of the MacDonald Family Trilogy is your favorite?
Tags: cover reveal, MacDonald Family, Under Scottish Stars