RWA 2014 Recap… and A Gold Stowaway
• News
Fresh back from the 2014 RWA national conference in San Antonio, Texas… with some unexpected carry-on luggage, a few new friends, and a sleep deficit that will take me well into September to make up for. But let me back up. For those of you who are curious about all the events that take place at RWA, here were some of my highlights.
"Readers for Life" Literacy Autographing
I flew into San Antonio on Wednesday, the same day as the literacy autographing, so I may have prayed incessantly for an on-time flight and good weather. Call me a little paranoid, but after being delayed for almost four hours on my way to ACFW last year, I wasn't feeling all that trusting of weather or airlines. But thank the Lord, the flight took off on time, landed on time with all luggage intact and present.
Enough time to check in, get lunch, pick up the books that had been overnighted to my hotel after the first shipment of books were lost, and then over to the literacy booksigning at the conference hotel!
To say it was a madhouse would be an understatement. Five hundred authors and check out lines that wrapped several times around the hallway. But, in the end, RWA raised something like $57,000 for local literacy charities.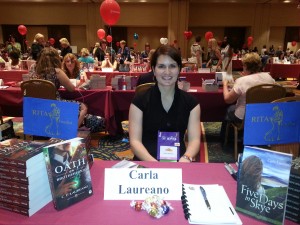 RITA/Golden Heart Finalist Reception
On Friday afternoon, RWA held a lovely champagne reception for the RITA and Golden Heart award finalists at the Marriott Riverwalk, complete with chocolate fountain (don't all writers love chocolate?) There we had a chance to mingle with other finalists and the RWA board, and we received our finalist certificates. I also had the chance to record a hilarious selfie video with fellow finalist Lizbeth Selvig. I'm stalking her YouTube channel, waiting for it to come out.
I really should have taken more pictures…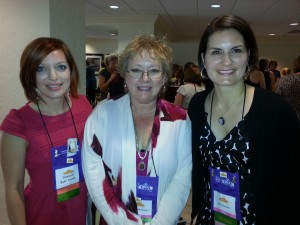 RITA/Golden Heart Awards Ceremony
To say I was nervous about the ceremony was an understatement. However, the emcee, Simone Elkeles was absolutely brilliant–funny, polished, and entertaining. The fact I remember this says something, because I remember almost nothing of that night through my nerves. I didn't even remember to have a friend snap a picture of the screen when the finalists were being announced!
And then those words that I had convinced myself I wouldn't be hearing: "And the RITA goes to… Five Days in Skye, by Carla Laureano."
I somehow managed to get up on stage, freezing like a deer in the headlights along the way. I vaguely remember Victoria Alexander telling me, "Well, come here and get your award!" I took it, think I hugged her, went to the podium… babbled on a bit before realizing I really needed to read my speech because my brain wasn't working clearly enough to remember what I wanted to say… managed to get off stage without falling down the stairs in four inch heels, and then had my picture taken by the conference photographer.
I then endeavored to get lost on the way back to my table, thanks to a combination of nerves, brain deadness, and being half-blind from the stage lights. When I finally collapsed back into my seat, I think there might have been hugs from my friends. There were definitely congratulatory text messages and tweets on my phone (thanks, everyone for the Twitter party!). Fortunately, my nerves had worn off by the time they got to the second category in which I was nominated, and while neither Elizabeth nor I won won that one, I console myself that NORA ROBERTS ANNOUNCED OUR CATEGORY and therefore kindasorta knows who we are. (Yes, I'm a fan. No, I didn't meet her. Boo.)
I still wasn't thinking all that clearly, so I didn't get many pictures, but here's one that a friend managed to snap…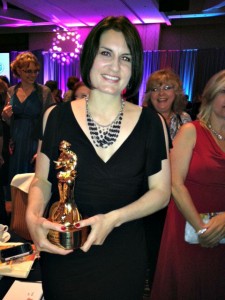 Don't you love the lovely red-eye effect? That's the problem with having cat's eyes… even the red eye tool on my photo editor doesn't get rid of it completely…
And what the beautiful lady looked like on my hotel desk…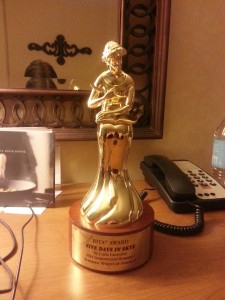 And her current place of honor on the table that holds all my author copies and mailing supplies. I think this perfectly sums up my life: a "major award" wedged between my file sorter and the lamp I swiped from my son's room, for which I never managed to find a more appropriate shade.
Reading back this blog post, I think I still might be stunned. But let me sign off with this: I'm grateful for the huge honor of winning this award–for my debut novel, no less–but even more grateful for the opportunity to be nominated alongside my lovely, talented, and equally deserving friend, Elizabeth Byler Younts. And if you're looking for some summer reading, may I make a pair of recommendations? 🙂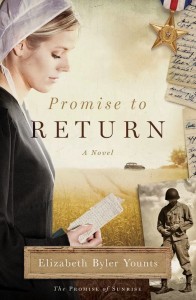 Tags: 2014 RITA, Elizabeth Byler Younts, Five Days in Skye, literacy signing, Promise to Return, Readers for Life, Victoria Alexander