New Year…New Site…New Books!
Happy New Year! Yes, I know I'm a little behind on the well-wishes, but it felt like 2016 came barreling in and hasn't stopped yet. However, I'm so excited to share a few bits of news with you!
The first part is probably pretty obvious by now…check out this new website! Thanks to the design expertise of the talented Emily Carlin of Swank Web Design, my romance site got a much needed update. While there are still book pages for my fantasy series, at the end of the month, the Song of Seare will be getting its new and improved home at CELaureano.com as well. If you're so inclined, take a moment to poke around and see how pretty it all is. 🙂
The second announcement is the big one… NEW SERIES ALERT! I'm thrilled to say that I'm expanding into the clean contemporary romance genre with a new series of novellas: Discovered by Love. Even better, I'm making the very first book in the series free to my newsletter subscribers. So, if you aren't one already, sign up now so you can be among the first to receive the e-book!
Here's a little bit about the first Discovered by Love novella, Jilted,  available January 19, 2016.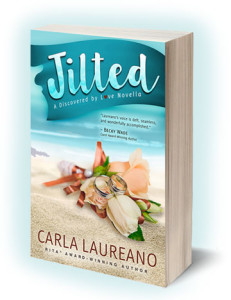 Three days. Two jaded hearts. One unexpected love.
Bethany Hall is hiding out on a remote private island off the coast of Belize, creating romantic meals for the rich and the privileged. But when her client Derek Moretti's bride jilts him at the altar, he's left with a bitter view on love, a $30,000 a week bungalow, and for the first time in his life, nowhere else to be.
After Derek overhears his beautiful personal chef talking about how he dodged a bullet when his bridezilla left him, he begins to think that maybe she's right. He convinces Bethany to act as his personal tour guide for the remainder of his trip, but neither expect that their purely platonic arrangement could shake their preconceptions about love.
Could Derek have been in the right place at the right time…just with the wrong woman?
I'd love to hear your thoughts on the site and the new book! Leave me a comment below!
Tags: Discovered by Love, ebook, free, Jilted