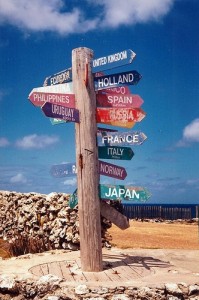 Not to be confused with One Direction, my Wednesday blog is getting set to go in a new direction! I've enjoyed writing and hosting guest posters for the Words for Women column immensely, but I'm feeling the need for a little brightness and levity in the middle of the week. So starting next week, Wednesdays are going to be the spot for My Favorite Things (or whatever clever name I think one between then and now.)
But before I go there, I have a question for you. What would you like to see on Wednesdays? Here are a couple of ideas:
Travel — Places I've been or places I dream of going
Food — Big surprise, the chick who wrote a celebrity chef hero likes food. What would you want to see? Recipes? My culinary experiments? Some come out well. Some… not so much.
Fashion — Okay, I like clothes and especially shoes, but a fashion blogger I'm not. Still, I come across some fun and crazy things. Do you want to see them?
Media — Videos, articles, blogs, movie reviews, music, viral sensations. After all, what's a Wednesday without a happy dog rampaging through a pile of autumn leaves?
But hey, I'm open to suggestions. Tell me, what do you want to see? What would brighten your Wednesday?