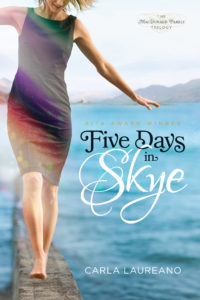 I've been getting tons of inquiries about the fabled and long-awaited third book in the MacDonald Family Series, Under Scottish Stars. I'm thrilled that so many of you are still enthusiastic about this series, and so I'm happy to tell you that I have a timeline for the re-release of all three books!
July 2018 – Five Days in Skye will be re-released in e-book only with a new cover
Summer 2019 – Five Days in Skye will be released in paperback/London Tides released in paperback and e-book
Summer 2020 – Under Scottish Stars will be released in paperback and e-book (FINALLY!)
I know you may still have questions, so here are the answers to the ones I get most frequently.
What happened?
In 2016, when I switched publishers, the MacDonald Family series was purchased by Tyndale House from David C. Cook. It's a huge coup for an author to have all her titles under one umbrella because it opens up options for pricing and promotion that you couldn't do if titles are scattered between more than one house.
Why can't they just release Under Scottish Stars now?
This was largely a strategic decision. The goal for every book is to get it to the widest audience possible. Bookstores don't tend to like to buy third books in a series from a new publisher, and readers don't like to pick up the third book in the series when the first two aren't on the shelf. Since the first two are now out of print, that means Tyndale has to re-release Five Days in Skye and London Tides first.
So why don't they re-release all three together now?
Again, bookstores are sensitive about the amount of money they sink into inventory for one author. With my new series, it would be asking them to buy five books in a short period of time, and with limited shelf space, that's not going to happen. So getting both series into bookstores concurrently is a difficult proposition. (Unless you're Francine Rivers and then… bring on the books! All the books.) And despite how many books are sold online, a huge percentage of my readers still discover my books in store.
But again… why?
I know. It's hard for me too. I absolutely love Serena and Malcolm's story (might be my favorite of the three, actually) and it's killing me not to share it with you! Hang on… it's coming! I promise!
If you haven't already, be sure to sign up for my mailing list so you'll be the first to receive updates when these books are available. In the meantime, happy reading!
Tags: Five Days in Skye, London Tides, MacDonald Family series, release date, Under Scottish Stars