Interview With Author Elizabeth Ludwig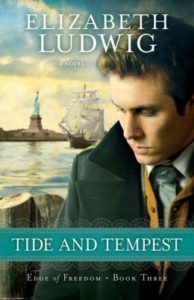 I'm pleased to welcome back a repeat guest, historical romance author Elizabeth Ludwig! This makes me very happy for two reasons: 1) Elizabeth is beautiful, intelligent, and entertaining and 2) That means I didn't actually scare her off the first time around.
Carla: So welcome back, Elizabeth! Last time, I think we were talking about the second book in your Edge of Freedom series, and now I have the pleasure of hosting you for the release of the third! Can you tell us a little about this new volume?
Elizabeth: Tide and Tempest is set in and around New York City, about the time that over twelve million immigrants were entering the United States through Ellis Island. It's the story of a young Irish girl who must come to grips with the pain of her past while dealing with her anger toward God. Like the previous two books in the Edge of Freedom series, I've taken a departure from the typical Historical Romance and added a strong element of suspense.
Carla: What inspired this particular novel?
Elizabeth: To be honest, if everything had gone as I planned, this book would never have been written. You see, when I first proposed my idea to my publisher, I was only planning for a two book series. Later, I was asked if I could expand my idea. Of course I said yes, though at the time, I really wasn't sure what the third book would be about. It wasn't until I finished the first book, No Safe Harbor, that inspiration struck and I realized that everyone I've ever met has carried some kind of wound—either pain from a broken relationship, or grief, sometimes even loss. When I sat down to write Tide and Tempest, I wanted to reach out to those who were hurting and offer some kind of hope. To do that, I had to reach into my own past, and touch on the pain and guilt I carried after the loss of my son. The grace I experienced through that traumatic time, the healing and restoration that God fulfilled in my life—that was the inspiration behind Tide and Tempest.
Carla: I really respect the courage that it takes to turn a personal tragedy into something that can reach others in their own difficult times. It sounds like a particularly meaningful way to finish off the series. Now that you've concluded the Edge of Freedom, what can we look forward to next from you?
Elizabeth: I'm very excited to have a Christmas novella coming out this September. It's called "One Holy Night" and it's part of an anthology collection called Christmas Comes to Bethlehem, Maine (Barbour Publishing, 2014). The stories all revolve around a live nativity hosted by the residents of the town. My story in particular is about a young vet, struggling to find her place in the community, and the handsome widower who catches her eye.
After that, I'm hoping to continue in the Historical Suspense genre. I have a couple of proposals floating around that I'm hoping will find a home. Soon. LOL!
Carla: I think all your fans are hoping they'll find a home soon as well! In the meantime, can you tell us what character in your most recent novel is most like you? Was that intentional, or did it just come about in the course of the writing?
Elizabeth: I think I would have to say Tillie McGrath from Tide and Tempest is most like me, which is funny, because as I explained above, hers was the only story that wasn't planned. Not only has the book turned out to be my favorite, the love story between Keondric and Tillie has been the most fun to write.
Also, I share a common grief with Tillie—the loss of a child. I think that's why she resonated with me so deeply. I really hope her triumph over guilt and grief speaks to readers.
Carla: Why did you choose this particular theme? What were you trying to say to your readers?
Elizabeth: To answer that, I think I would have to explain a realization I had not too long ago. I was doing a radio interview, and the host asked me what my books were about. "Besides the romance and suspense," he said, "what would you say is the theme?"
Normally, I do all right in an impromptu interview, but the answer that rose to my lips surprised even me.
"Grief," I said. "These books are about losing someone you love and finding the faith to go on."
"Grief? Isn't that sort of an odd theme for a romance?"
"Not really," I replied. "True love, the kind that God gives, always involves sacrifice."
After I'd had time to ponder that conversation, I realized deep down what I'd always known to be true. These books are about loss, but not the crippling, demoralizing, paralyzing kind. They're about cutting away everything that hinders us from relying fully and completely upon Jesus. They're about entrusting the people and things we love most in the world to Him. And they're about learning to cast aside every unspoken fear and throwing ourselves on the infinite grace and mercy of the Savior. That is what I hope readers will take from these novels.
Carla: Wow. That's an unexpected insight for a radio (or a blog) interview, but I agree with you. I like to write broken and wounded people as well, because only through brokenness can there come true healing.
Here's another unusual interview question then. Fill in the blank: I will consider myself a successful author when I __________________. (Or, I consider myself a successful author because I __________________.)
Elizabeth: This question actually made me sad for a moment, because I realized that somewhere along my publishing journey, I had inflicted too many provisions on what I considered to be success. My prayer when I first started writing was simple—Lord, please help me to get published, and let my words touch someone's heart.
Oh, how that prayer has changed over time! After my first book contract, I quickly discovered how unpredictable the publishing industry can be (an article for another time). The joy of holding my first published book disintegrated when I learned that the subsequent two books in the series would not be published as had been promised, and I added this line to my prayer—Lord, please help me to get published, and let my words touch someone's heart, and let there be another contract.
Proving His love and faithfulness, God did provide another contract. I remember celebrating with thanksgiving the upcoming Christmas novella that would allow me to tell the story of my walk into adulthood. But then the book cover came, and I realized that readers would need a microscope to read the teeny-tiny letters of my name beneath the big, bold letters of the lead author, and I added this line to my prayer—Lord, please help me to get published, and let my words touch someone's heart, and let there be another contract, and someday, Lord, let my name be the prominent one on the cover.
Since then, I've added many lines to that first simple prayer. Weights like good sales numbers, positive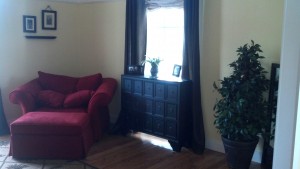 reviews, and contest awards encumber what was once a sincere desire. God reminded me of this during a dark period of wrestling with Him over the path I was to follow. Now, I measure success not by contracts or sales numbers, but in my level of obedience and my striving to please Him.
Carla: It's a hard lesson to learn, and as a new author, I think I'm still figuring this one out myself. Let's move on to the fun questions now.What does your writing cave look like?
Elizabeth: My husband and I both love old houses, but neither of us were fans of the repairs that typically come with them—things like rusty plumbing, bad wiring, and no closets. That's why we were thrilled to find a home in a nearby community that had been built to resemble an old-fashioned southern plantation home, but with all the modern conveniences. The front room, which I affectionately refer to as my parlor, is my favorite place to write, and this red chair, the ideal writing nook.
Carla: What book had the biggest impact on you as a reader? As a writer?
Elizabeth: Oh my goodness…I know this answer is going to baffle most people but…I have to say the book (and the character) that impacted me most is No Flying in the House by Betty Brock, and the child/heroine of the story, Annabel Tippens.
Annabel is a little girl "with short blond hair and very good manners" (taken from the book description on Amazon.com). She seems quite ordinary, except that she's also half fairy—and instead of parents, she has a two-inch high dog named Gloria.
Well, you can imagine that for a kid who loved to read, this book was extraordinary.  I read it over and over again and dreamed of the day I would learn to fly. Later, I came to realize that what captured my imagination was not so much the story of a half-fairy princess, but of a little girl struggling to find herself. The sacrifices that Annabel Tippens makes challenged me to acknowledge what was real and important—love, faith, and family.
Carla: Coffee? Tea? Hot chocolate?
Elizabeth: This is a tough one because I love all three, but when I need focus and energy, I stick to coffee. Black. And strong. Stop by! I'll put a pot on. 🙂
I will most definitely take you up on that. Thank you so much for visiting today, and I hope you'll come back soon! And for our readers, Elizabeth is including your choice of any of her Edge of Freedom books in my Winter Warm-Up Giveaway. Less than two weeks to enter, so don't forget to leave Elizabeth a comment below and check out your other entry options at the bottom of the page. ***Contest is now closed***
About Elizabeth
Elizabeth Ludwig is the award-winning author of No Safe Harbor and Dark Road Home, Books One and Two in the Edge of Freedom series. Her popular literary blog, The Borrowed Book, enjoys a wide readership. Elizabeth is an accomplished speaker and teacher, often attending conferences and seminars where she lectures on editing for fiction writers, crafting effective novel proposals, and conducting successful editor/agent interviews. Along with her husband and children, she makes her home in the great state of Texas.
Connect with Elizabeth: Website | Facebook | Twitter
About Tide and Tempest
Two years ago, her fiance perished during their voyage to America. Now she discovers it may have been murdered.
Dreaming of a better life, Tillie McGrath leaves Ireland behind and, with her beloved fiance by her side, sets sail for America. But when illness robs her of the man she holds dear, she's left alone with only a handful of tattered memories. While forging on proves difficult, Tillie soon finds some new friends at her New York boardinghouse, and begins pursuing a new dream–to open a home for orphaned children.
Despite two years passing, Captain Keondric Morgan has never forgotten the lass who left his ship so heartbroken. When a crewman's deathbed confession reveals her fiance's demise was the result of murder, the captain knows he must try to contact her. But his attention draws the notice of others as well–dangerous men who believe Tillie has in her possession something that could expose their crimes. And to their way of thinking, the best way to prevent such an outcome is to seize the evidence and then hand Tillie the same fate as her naïve fiance.
Order Tide and Tempest: Amazon | Barnes & Noble | ChristianBook.com
Tags: Elizabeth Ludwig, Historical Romance, interview, Suspence, Tide and Tempest