Interview With Author Elizabeth Byler Younts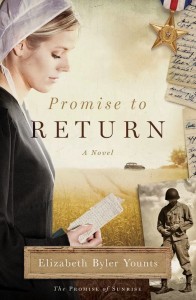 I am so excited to welcome my guest today, friend and fellow RWA RITA Award double nominee, Elizabeth Byler Younts. Elizabeth is author of the Amish historical novel, Promise to Return.
Carla: First of all, congratulations! I am really excited to be nominated alongside you in two categories in the RITA contest! Since there's only the two of us in inspirational, I've had this image of us like the last two Miss America contestants, holding hands while we wait for the results, but I'll probably be too busy breathing into a paper bag if my reaction when I got the final round notification is any predictor. What was it like when you found out you had finaled?
Elizabeth: I was shaking. I was ready to walk into a homeschool field trip with hundreds of other families but all I wanted to do was call the people who mattered most and helped me on my journey. I did call my husband, mom, and agent (she screamed twice). It was a completely out of body and spiritual moment.
Carla: I bet! I was stalking the results because I had gotten my phone call first, and I think maybe twelve seconds elapsed before I was posting on your Facebook wall. Now, most people who read this blog know that I'm not a huge reader of Amish fiction (okay, so that might be an understatement), but yours is an intriguing premise. Can you tell us a little about your book and the inspiration behind it?
Elizabeth: Promise to Return highlights the life of the Amish during WW2. As conscientious objectors (C.O.s), their perspective during the war was vastly different from the majority of Americans. Society saw them as disloyal to our country. When boys got drafted they had 4 choices: serve, serve in a noncombatant role (not popular in the church), imprisonment, and Civilian Public Service (CPS). The CPS was brand new in WW2 and were camps throughout the country where all C.O.s would have the option of working. They were all fairly labor-intensive camps: working land, digging ditches, building fences, building out-buildings, raising chickens, fighting fires, some allowed themselves to be experimented upon, and many worked in mental institutions. The C.O.s were unpaid by the government but provided millions of dollars of work,  and local churches stepped up and provided the C.O.s with a small amount of money. This money barely covered their living expenses which left very little to be sent home to their families, as many of these men were husbands with wives and children or sons who helped support their families. Over 12,000 C.O.s worked in these camps across the country, yet so few Americans know their story. I wanted to share their convictions and stories through fiction and Promise to Return was born.
Carla: I can't wait to dig a little deeper into this book myself. What can we look forward to next from you?
Elizabeth: I'm excited to share the rest of The Promise of Sunrise series with my readers. Promise to Cherish will take you into the heart of a mental institution with an Amish conscientious objector…with stories ripped from the pages of my grandpa's memories of his own service. The love laced through this sometimes bleak story is also inspired from a beautiful romance between my Amish cousin and a girl of a very different faith. You'll have to read it to find out how that works out.
Carla: Ooh, that sounds interesting. If you could live life as one of your characters (from any of your novels), would you? And who would it be?
Elizabeth: No thanks. I definitely don't want to be Amish again. I love my heritage, but, please, I cannot live without my Apple products.
Carla: Amen to the technology. Coffee? Tea? Hot chocolate?
Elizabeth: Definitely coffee. My husband and I are coffee snobs. We roast green coffee beans from all around the world. We mostly French press, but we also love pour over. We have a serious problem.
Carla: Hmm, I don't define that as a problem, exactly… Okay, next question. As a child, what did you want to be when you grew up?
Elizabeth: As long as I can remember I wanted to be an author. I even wrote my first novel by the age of eleven and promised my Amish grandma that I would someday write her memoir. Though it was over twenty years later before that memoir would be published (Seasons: A Real Story of an Amish Girl) my grandma's stories are what sparked my writing life.
Carla: Divergent series ending: What were they thinking??? Or "only way it could have ended?"
Elizabeth: I think that Veronica Roth was incredibly brave to end it the way she did. Part of me was frustrated because I wanted "that part" of the ending to have a little more oomph or something, but I thought the continuing chapters were well-done and gave the reader hope without making it cheesy.
Carla: What's the weirdest thing currently in your refrigerator?
Elizabeth: I'm planning to start brewing my own Kombucha tea, so the scoby in my fridge is definitely a little odd looking. I can't wait to get started though!
Carla: What's your dream car?
Elizabeth: Before I was a mom I had a blue VW Beetle. I LOVED it. I want one again. I know it's not sporty or fast, but it was just me. Once the girls are out of booster seats and such…that's what I want for our running around.
Carla: Thank you so much for visiting today, and giving us a peek into your writing world! I wish you the best of luck in the contest… and I think we need to go find some really good coffee in San Antonio!
About Elizabeth
Elizabeth Byler Younts is a 2014 double RITA finalist and a member of ACFW and RWA. She is an Air Force officer's wife and a homeschooling mom with two young daughters, currently living in Pennsylvania. Elizabeth was Amish as a child and after her parents left the church she still grew up among her Amish family and continues to speak Pennsylvania Dutch.
Connect with Elizabeth: Website | Facebook | Twitter
About Promise to Return
When World War II breaks out, Miriam Coblentz's peaceful Amish world is turned upside down… 
It's 1943, and Miriam Coblentz and Henry Mast are nearing their wed­ding day when the unthinkable happens—Henry is drafted. However, since he is a part of the pacifist Amish tradition, Henry is sent to a conscientious objector Civilian Public Service camp. When he leaves for the work camp, his gaping absence turns Miriam's life upside down. Little does she know it's only the beginning… When Henry returns home, he brings news that shakes Miriam and their Amish community to the core. Henry believes God has called him to enlist in the army and fight for his country, leaving her to make an impor­tant decision: whether to choose loyalty to the peaceful life she's always known or her love for Henry. Two worlds collide in this unforgettable debut novel, providing a fasci­nating and rare look into Amish culture during World War II. While Henry is battling enemies across the ocean, Miriam struggles between her devotion to Henry and her love of the Amish way of life. One question is at the bottom of it all: will she follow the rules of her religion or the leading of her heart?
Order Promise to Return: Amazon | Barnes & Noble | ChristianBook.com
Tags: Amish fiction, Elizabeth Byler Younts, inspiration, Promise to Return, RITA awards, romance, RWA