Five Best Productivity Tools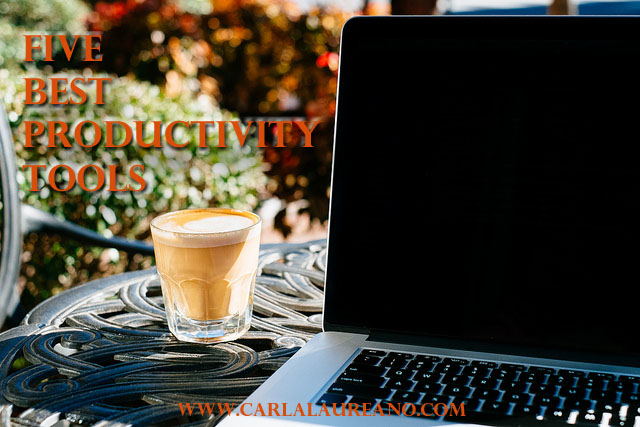 I know I've been busy when an entire week has passed without writing a blog post, and it hasn't even crossed my mind. It's not as if I'm busy right now (where's that sarcasm font when you need it?): between family life with all of its end-of-the-school-year hecticness and work life (two books due to my publishers in five months, building a new website, the unexpected early "soft" launch of my first fantasy novel, and the beginning of promos for the new series), it's hard to fit it all in. So I thought I'd do a blog post a la Michael Hyatt on the software tools that I can't live without. These are the ones that keep me from getting any further behind than I already am and help streamline my everyday tasks more efficiently.
1) Scrivener I've seen more and more authors jump on the Scrivener bandwagon lately, and for good reason. It's a convenient all-in-one writing solution, with places to store notes and manuscript versions, and much more than I have managed to figure out in the last eighteen months. I finally broke down and bought the Scrivener for Dummies book, though I didn't realize it's geared towards Mac and so not every lesson is directly applicable to my Windows version. I recently even started using Scrivener to write my blog posts. The plain text format lets me easily paste it into WordPress without any formatting glitches like sometimes happens with Word, and I have a copy of every post in one simple file.
Best feature: Automatic back-up. Not only can you set Scrivener to save your current file anytime you stop typing for more than a certain period of time (I have it set on the default two seconds), you can also designate a location for automatic back-up when you close the program. I have the filepath set to Dropbox, so I know even if I have a catastrophic hard drive failure, I have the last ten versions of my Scrivener workspace saved in the cloud and on every other electronic device. You can't buy that kind of peace of mind.
2) Evernote I'm new to Evernote. I was using Microsoft One Note for a while, but its web clipping capabilities are rudimentary, and that's the one function that I use most often. I have notebooks and stacks for almost everything: conference details, book research, articles to read later. I've even begun using it to organize my receipts. Since I have a habit of losing or misfiling business receipts and have to scramble at tax time, I now take a photo of the receipt immediately and file/tag it in Evernote. At the end of the year, I'll have a quick visual representation of all my expenses. Not to mention a comprehensive collection of every bit of research that I used to bookmark and have to return to later.
Best feature: Cross-platform support. I have Evernote on the web/my PC, my cell phone, and my tablet. No matter what device I'm using, my notes sync across devices so I always have them at hand.
3) Wunderlist I've tried a lot of list-taking apps… and I mean a lot. Wunderlist in my opinion is the best of the bunch. While a lot of people who use Evernote also use it for their task lists, I find the interface just jumbles up my brain too much to be useful. That's where Wunderlist's simple, attractive interface does the trick. It's the closest I've found to actual paper-list-note-taking, with the added value of having cross-platform support on all my devices. I keep the web version pinned to my Firefox tabs so it's always open when I'm working (I almost always have my browser open for ease of research).
Best feature: Multiple notifications of upcoming tasks— in browser, on mobile devices, and via email. It's very hard for me to forget a task because of this (though I do sometimes choose to ignore them). If it had a snooze option for alarms, it would be the perfect productivity software.
4) Mozilla Thunderbird I used to be a die hard Outlook user, mostly because it was one of the few e-mail clients that handled my multiple accounts adequately and allowed me to choose my reply-from address, even the original message was sent to a different account. Then I switched computers and had no end of issues with the newest version, including trouble importing my old folders. There had to be a better way. Enter Mozilla Thunderbird, an open-source email client from the makers of the Firefox browser that seems purposely constructed to thumb its nose at Outlook. It does everything that Outlook does, just better. If you really like the integrated task list and calendar functions of Outlook, Thunderbird has third-party plug-ins that accomplish the same thing.
Best feature: Support for Yahoo! Mail, something that Outlook only allowed with the addition of a Yahoo premium service.
5) Password manager I'm not going to name the particular password manager software I use, but after the Heartbleed weakness was found in websites using Open SSL authentication, it was a must. I had to set new passwords for a dozen sites, and it became pretty impossible to remember them all. Now I can use stronger, secure passwords and not have to remember them all, as long as I recall my master password. There are different software options for all different budgets and levels of tech savvy, so do some research before choosing one. I'm not sure why I didn't start using one sooner.
Best feature: Auto-fill for password forms. Because yes, I'm that lazy.
Your turn! What software, tools, and productivity assists can't you live without? Tell me in the comments below.
Tags: Evernote, Mozilla, password vault, productivity, Scrivener, software, Thunderbird, Wunderlist